'Politics of Revenge': Former Karnataka CM BS Yediyurappa sounds warning on Congress govt
The Karnataka Congress government is under fire from BJP central parliamentary board member and former Chief Minister B.S. Yediyurappa, who accuses them of engaging in politics of revenge. Yediyurappa expressed his strong disapproval, claiming that the government has sanctioned funds for development works only to halt them midway, creating a state of confusion.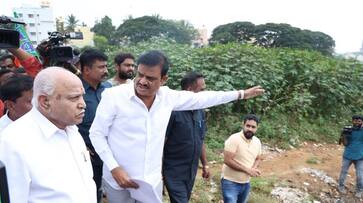 Studying the drought situation and inspecting stalled projects near Kerekodi Junction, PES College, RR Nagar, Yediyurappa addressed the media, announcing plans for a three-day protest in front of Vidhana Soudha at the end of the month. The purpose is to condemn the government's actions and issue a stern warning.
HD Kumaraswamy slams Karnataka CM Siddaramaiah, urges focus on state issues rather than blaming central govt
Yediyurappa highlighted the reluctance of contractors to work, citing a lack of released funds and allegations of demanding high commissions. He condemned the governance of the Congress-led government and warned of mass protests with thousands of people gathering at Vidhana Soudha or Freedom Park for three days. The specific date for the protest is set to be announced on Friday. According to him, financial constraints arise from the government's failure to release funds, leading to contractors seeking exorbitant commissions ranging from 7.5 to 8 percent, even for previously completed projects
Expressing concern over the deteriorating state of roads in the city, Yediyurappa attributed the situation to the government's revenge politics, asserting that development work is being impeded due to personal enmity. He pledged to draw the government's attention to the need for unbiased attention to development work.
Yediyurappa confirmed that protests would extend beyond his immediate area to various parts of the state, emphasizing the need for widespread opposition to the government's interference in developmental projects. When questioned about BJP members joining the Congress, Yeddyurappa maintained that individuals were free to make their choices, expressing his focus on functioning as an effective opposition party.
Addressing concerns about potential illegal activities, Yediyurappa advocated for investigations and appropriate actions but criticized the complete halt in all work, labeling it as revenge politics. RR Nagar MLA , N. Muniratna, echoed these sentiments, revealing the cancellation of works and the transfer of a 126 crore grant sanctioned by the previous government to other constituencies.
Prominent leaders, including former Deputy Chief Minister Dr. C. N. Ashwath Narayan, BJP State General Secretary Siddaraj, and Bengaluru Central MP PC Mohan, were present at the event.
Last Updated Nov 9, 2023, 6:13 PM IST