Karnataka: Bidar - Yeshwantpur train service set to commence from today
Union Minister Bhagwanth Khuba held a meeting to discuss the Bidar-Yeshwantpur train's details, which is set to start today. The train's inauguration is scheduled for 4:30 p.m., with Minister Khuba taking a ride from Bidar to Humanabad. A special puja ceremony awaits the train in Humanabad, and the minister directed officials to provide updates on Bidar railway station development. The Metalakunta Railway Underbridge project's report was sent to the South Central Railway for approval.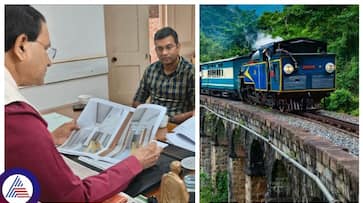 The newly announced Bidar - Yeshwantpur train is set to commence its journey from today, October 29. Union Minister Bhagwanth Khuba convened a meeting with railway officials at his home office to discuss the details of the route for the Bidar-Yeshwantpur train.
The train is scheduled to kick off at 3 p.m. today, culminating with a green signal for the new train by Union Minister Bhagwant Khuba and other district representatives at 4:30 p.m. Minister Khuba himself plans to embark on a train ride from Bidar to Humanabad.

Railways to roll out 3rd Vande Bharat on Chennai-Bengaluru-Ernakulam route?
The people of Humanabad, along with local party leaders, are gearing up to welcome the new train with a special puja ceremony at the Humanabad railway station. Minister Khuba has directed railway authorities to prepare for this grand occasion.
The minister has instructed officials to provide weekly updates on the progress of the Bidar railway station development under the Amrit Bharat scheme, which is being funded with a grant of 25 crores.

Returning from Dasara Holidays? SWR introduces special trains for Hubballi-Bengaluru route; check details
During the meeting, the General Manager revealed that a detailed report for the Metalakunta Railway Underbridge (RUB) project, which falls between Bidar and Zaheerabad Lok Sabha constituencies, had been forwarded to the South Central Railway. Minister Khuba immediately engaged in a telephone conversation with the General Manager, urging the swift approval of the project report.
Present at the meeting were South Central Railway ADRM Pradeepa Rathoda, Sr. DEN Srinivasa, Bidar AEN Bhikshapati,
Last Updated Oct 29, 2023, 10:14 AM IST