Google review of Bengaluru carpenter takes comical turn with 'Good in Bed' remark
A Google review of a carpenter named Syed Bhai in Bengaluru has gone viral, featuring a humorous comment that unintentionally suggests he's "good in bed." Internet users have had a field day with witty comments, turning it into an online sensation.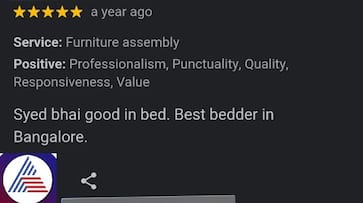 The internet is an amusing place, often filled with unexpected laughter, and Indians are renowned for their humour. Many videos and posts created by Indians themselves regularly tickle people's funny bones. Recently, a Google review of a carpenter's shop in Bengaluru has taken the online world by storm, leaving netizens in splits.
This particular review posted a year ago, has suddenly gone viral, causing an uproar of laughter. The carpenter in question is known as Syed Bhai, and someone was evidently highly satisfied with his work. So impressed, in fact, that they decided to leave a review on Google.

Want to date in Bengaluru? Read this woman's tips about dating in traffic
However, little did they know that their review would achieve such widespread fame and mirth and that too, a full year after its initial posting. The review read, "Syed bhai good in bed, best bedder in Bangalore."
Now, at first glance, it may seem like an innocent compliment regarding the quality of Syed Bhai's craftsmanship in making beds. However, the internet had a field day with this unintentionally hilarious review.
The screenshot of this rib-tickling review was shared by a user known as @ledygarga, and it quickly garnered a flurry of witty comments.
For instance, @_thatmemergirl humorously inquired, "Syed bhae ke aage koi bedding kar sakta hai kya? Syed bhaeeeee!" (Can anyone outdo Syed bhai in bedding? Syed bhaeeeee!)

'I like idly more than Masala Dosa...' actress Rukmini Vasanth in her latest post
Another user, @double_scorpio, playfully chimed in, "I saw a documentary on his life. In that, the carpenter comes in and beds the client. Google it, you'll find it, I'm sure 🙏🙏."
Another one stated - Syed bhai can do anything!
In the realm of internet humour, this unexpected twist has left people in splits, proving that laughter can come from the most unexpected places, even a carpenter's review.
Last Updated Oct 11, 2023, 12:39 PM IST