India to invest 120 billion rupees on rail link with Bhutan
The Indian government allocates Rs 120 billion for a 57.5 km railway linking Kokrajhar (Assam) with Gelephu (Bhutan), fostering trade, tourism, and bilateral relations. The project aims to create a transformative railway connection between India and Bhutan by 2026.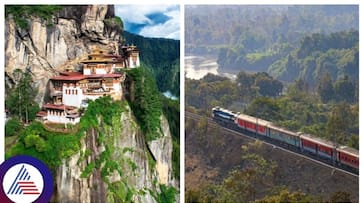 The Government of India has dedicated Rs 120 billion to expanding railway infrastructure in the Northeastern region, a crucial step toward creating the anticipated Bhutan-India railway connection. This major project will be fully funded by the Indian government, with an estimated investment of Rs 10 billion. 
The railway line will stretch over 57.5 kilometres, linking Kokrajhar in Assam with Gelephu in Sarpang, Bhutan, and is scheduled for completion by 2026.

Why second Vande Bharat Express train's arrival in Kerala will be delayed
External Affairs Minister S Jaishankar recently hinted at ongoing discussions about this transformative railway link between India and Bhutan. He highlighted its potential benefits, explaining that negotiations are underway for a railway connection between Bhutan and Assam. This project aims to boost tourism opportunities, benefiting both regions.
The railway project is expected to be a game-changer, promoting trade, and cultural exchange, and strengthening bilateral relations between India and Bhutan. The project gained momentum after Bhutan's Prime Minister's inaugural visit to India in 2018. The commencement of construction for the Gelephu -Kokrajhar rail link is anticipated to pave the way for more railway projects in the southern and eastern regions of both countries, including areas such as Samtse, Phuentsholing, Nganglam, and Samdrup Jongkhar.

Indian Railways announces one more special train for passengers returning after Onam celebration
In 2005, Bhutan and India signed a memorandum of understanding, expressing their shared goal of connecting border towns through an extensive railway network. This Bhutan-India railway link promises to forge a new and robust relationship between the two nations. 
It is notable that India shares a 605-kilometre (376-mile) border with Bhutan and plays a vital role in Bhutan's trade, accounting for 98 per cent of its exports and 90 per cent of its imports.
Last Updated Sep 11, 2023, 5:16 PM IST