Four more deer succumb at Bannerghatta National Park, bringing total deaths to 23
Bannerghatta Park in Karnataka has experienced a concerning series of animal deaths, including deer, leopards, and leopard cubs, sparking outrage and investigations into the alleged negligence of park authorities.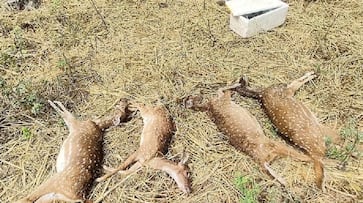 Bannerghatta Park in Karnataka has witnessed a distressing series of animal deaths, with four more deer succumbing to various issues. This unfortunate trend follows the demise of seven leopard cubs and 16 deer in the past two months, largely attributed to alleged negligence by park authorities.
Despite Forest Minister Ishwar Khandre's assurances of action following a comprehensive report from senior officials, the spate of deer deaths has not abated, further incensing animal advocates who blame the park's authorities for the animals' tragic fates.

Bengaluru: 13 deer die at Bannerghatta National Park post death of leopard cubs, sparks outrage
Between August 22 and September 19, at least 13 deer lost their lives, and by September 21, the number had risen to 19. Four additional deer fatalities have pushed the toll to 23, according to officials. Joseph Hoover, a conservationist, suspects that the deer may have fallen victim to 'capture myopathy,' a condition often fatal to captured wild animals, which is triggered by exertion or stress.

International Tiger Day 2023: Census reveals there are 435 tigers in Karnataka
The Forest Minister's meetings with senior officials led to intensified health monitoring of animals in the park. Consequently, the authorities have quarantined the remaining deer. Of the 37 deer transferred from St. John's Hospital Park in the city, 23 have died, while 14 have survived.
"We are taking steps to prevent more deer deaths by providing them with essential medicines, including antibiotics. Fortunately, the surviving deer are showing positive responses to the antibiotic treatment. The leopards have also received booster doses without any issues, and the rest of the leopard population remains in good health," stated Suryasen, the park's executive director.
Last Updated Sep 27, 2023, 12:35 PM IST