Domino's delivery hero: Agents go extra mile to deliver pizza in Bengaluru traffic chaos, video trends - WATCH
In the midst of a traffic jam in Bengaluru, two Domino's delivery executives used live location tracking to locate a customer and deliver food directly to their car. A video of this considerate service went viral on social media, highlighting the dedication of these delivery agents. Customers praised their exceptional customer service despite the challenging traffic conditions.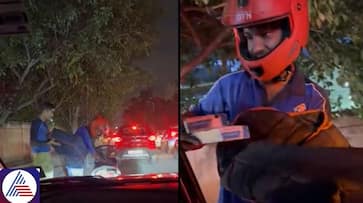 The Outer Ring Road along Sarjapur in Bengaluru was choked to traffic jams yesterday, and Social Media was filled with engaging posts highlighting the humungous jam. Amidst the traffic chaos in Bengaluru, a heartwarming incident unfolded involving two Domino's delivery executives who went the extra mile to deliver food to stranded commuters. 
The delivery agents used live location tracking to locate a customer stuck in traffic and deliver the food directly to their car. A video shared on Platform X (formerly Twitter) by user Rishivaths captured the Domino's agents stopping their two-wheeler on the congested road, approaching the car, and handing over two boxes of food.

Bengaluru's unpredictable traffic: Helicopter surprise stalls road, social media buzz follows
User Rishivaths tweeted the video stating, "When we decided to order from @dominos during the Bangalore choke. They were kind enough to track our live location (a few metres away from our random location added in the traffic) and deliver to us in the traffic jam."
He expressed gratitude to Domino's for their considerate service during the traffic jam, highlighting how the delivery agents tracked their live location and delivered the food, even though they were just a few meters away from the customer's original location due to the traffic.
User __sabakhan_s commented on the video shared on Instagram, acknowledging the exemplary customer service but also lamenting the lack of humanity in some people who create traffic problems for others.

Bengaluru Traffic Police share video to avoid unnecessary honking, reduce noise pollution (WATCH)
Binoy kalath also praised the delivery agents for their exceptional customer service, describing it as an attitude of excellence at work and commending their dedication.
User Vikas Anand remarked, "'Domino's fulfilling their 30-minute delivery promise'. this is awesome. On another note, take a moment to consider these delivery personnel. It's truly challenging for them, to navigate through heavy traffic, and still consistently meet customer expectations... isn't.
Last Updated Sep 28, 2023, 11:47 AM IST