Decades-long pursuit ends in Karnataka: Bidar Police capture buffalo thief after 57 years
The Bidar police have arrested Ganapati Vitthala Waghmore, who stole buffaloes 57 years ago in Karnataka's Bidar district. Despite decades of evasion, a dedicated team has finally apprehended the culprit, who had escaped court proceedings after the theft in 1965.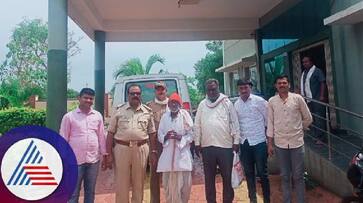 A thief has been caught by the Bidar police after nearly five decades, who had stolen a buffalo 57 years ago. The incident has reportedly happened in Karnataka's Bidar.  The Bidar police, after decades of searching, have successfully arrested the individual responsible for stealing a buffalo. 
Ganapati Vitthala Waghmore, hailing from Takalgaon village in Maharashtra's Latur district, committed the theft on April 25, 1965. The crime took place in Mehkar village, situated in Bhalki taluk of Bidar district. Waghmore had stolen two buffaloes and a buffalo calf belonging to Muralidhar Manikarao Kulkarni.

Police apprehend 7 drug peddlers from Odisha in Bengaluru
To address pending cases, especially those that have lingered for nearly a year, a special police team was formed. This team diligently pursued cases in which the accused had failed to appear in court. Bidar District Superintendent of Police, Chennabasavanna LS, disclosed that this dedicated team has successfully apprehended the culprit after an astounding 57 years.

Bengaluru: Police arrest two individuals who extorted people, showing women's pictures through dating app
At the time of the theft, Ganapati Vitthala Waghmore was just 20 years old. Now, at the age of 80, he has been taken into custody by the Bhalki police. Remarkably, Waghmore had been apprehended by the police within a week of committing the buffalo theft back in 1965. However, he managed to escape and evade capture by going into hiding without attending court proceedings.
For over five decades, the police diligently searched for his whereabouts. Waghmore remained inaccessible, at times providing the police with false leads. Nevertheless, the police have finally apprehended him, and he has been presented before the court to face the long-pending charges.
Last Updated Sep 12, 2023, 3:43 PM IST