CT Ravi criticizes Congress, calls for judicial inquiry into Shivamogga riots
Former national general secretary and BJP leader CT Ravi criticized the Congress party, stating that they go beyond saffron and happily embrace the Kufis (Skull cap) of Muslims. Responding to accusations that the BJP is "fake Hindus," Ravi humorously remarked, "Yes, we are fake Hindus; this is how we keep the tilak on our foreheads and wear saffron turbans." He expressed that true Hindus do not necessarily associate with the saffron symbol. Ravi went on to suggest that he wouldn't be surprised if individuals making such claims ended up speaking on behalf of figures like Osama bin Laden in the future.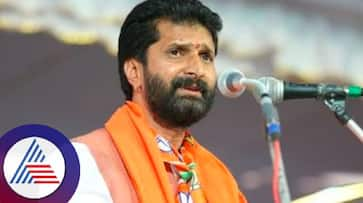 Regarding the Shivamogga riots, Ravi accused the Congress government of pursuing a skewed approach by equating those who threw stones with those who were injured by them. He criticized the government for allowing historical figures like Aurangzeb and Tipu Sultan to be part of the Eid Milad procession, suggesting it was a mistake. He argued that this failure to take action against fanatics encouraged extremism and called for an impartial investigation into the matter.
Demanding a judicial inquiry into the Shivamogga incident, Ravi emphasized the gravity of the situation and the need to maintain peace in Karnataka. He cautioned that the incidents in Shivamogga and Kolar were like a "testing dose" and warned of further turmoil if not addressed appropriately. Ravi expressed concerns about the glorification of historical figures and speculated that figures like Afzal Guru, Osama Bin Laden, Saddam Hussein, and Muhammad Ali Jinnah might be praised in the future.
Union Minister Rajeev Chandrasekhar Criticizes Karnataka Congress Govt Over Budgetary Shortfalls
Ravi pointed out that Shivamogga is a sensitive area and expressed concern over the negative attention Karnataka has received during the Congress government's tenure, which has lasted for over 140 days. He suggested that the government's leniency toward communal forces might have contributed to the current situation.
Ravi also raised suspicions about the government's actions, hinting at a possible connection between their decisions and support for the Taliban. He mentioned incidents of violence and tension, including provocative statements and brutal crimes in various regions, and called for an examination of the government's motives and actions.
Last Updated Oct 7, 2023, 12:15 PM IST