CM Siddaramaiah laments PM Modi not responding to request to meet
Karnataka Chief Minister Siddaramaiah has expressed his disappointment over Prime Minister Narendra Modi's lack of response despite penning a letter and seeking a detailed discussion on the state's drought and irrigation projects.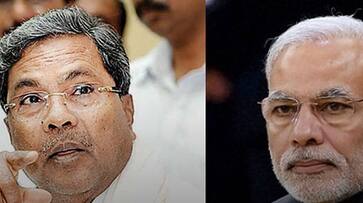 Siddaramaiah has voiced disappointment over the absence of a reply from the Prime Minister. Addressing the media during a press conference on Sunday, he underscored the critical situation arising from severe drought in Karnataka, emphasizing the need for immediate action to support farmers and laborers.
Siddaramaiah disclosed that the primary objective behind his request for a meeting with Prime Minister Modi was to secure additional grants and assistance for the state. He also aimed to seek the Centre's intervention in resolving disputes surrounding key irrigation projects such as UKP, Kaveri, Mahadai, and Mekedatu. 
Karnataka: 'State BJP stands reason for Cauvery Injustice,' says DyCM DK Shivakumar
In response to criticism from B.S. Yediyurappa, who accused the Congress administration of inaction during the state's drought crisis, Siddaramaiah defended his stance. He called for a cessation of political rhetoric and urged Yeddyurappa and his fellow BJP MPs in the state to prioritize scheduling a meeting with Prime Minister Modi to address the pressing issues affecting Karnataka.
Siddaramaiah also raised questions about the recent order issued by the Cauvery Water Management Authority. This order mandates the daily release of 5,000 cusecs of Cauvery water to Tamil Nadu, a decision that Siddaramaiah finds inappropriate given the current water scarcity resulting from insufficient rainfall in the state. Under normal circumstances, Tamil Nadu is entitled to 177.25 TMC of water, and based on this allocation, only 99 TMC should have been released at this point. 
However, Karnataka has already released 37.7 TMC of water, prompting Siddaramaiah to announce his intention to challenge this decision in court. He emphasized the paramount importance of safeguarding the interests of Karnataka's farmers during this crisis.
Last Updated Sep 18, 2023, 12:43 PM IST