Karnataka: 'State BJP stands reason for Cauvery Injustice,' says DyCM DK Shivakumar
Deputy Chief Minister D.K. Shivakumar expresses dissatisfaction with BJP leaders for failing to address Karnataka's concerns with Prime Minister Narendra Modi, especially regarding the Cauvery issue and pending project clearances. He calls for cooperation on water-related issues and suggests resolving river disputes through dialogue, advocating for a meeting between Karnataka and Tamil Nadu leaders.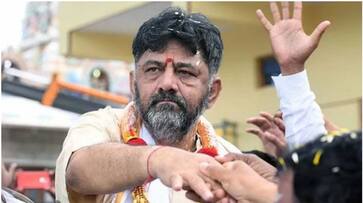 Deputy Chief Minister D.K. Shivakumar expressed strong dissatisfaction with BJP leaders and MPs for failing to address the state's concerns with Prime Minister Narendra Modi. Shivakumar accused the BJP of causing problems and injustice to Karnataka regarding the Cauvery issue and the state's interests.
Speaking to the reporters near the Kumarakrupa guest house in Bengaluru, Shivakumar criticized the BJP for accusing the Congress of playing politics with the Cauvery water issue, stating that they lack the moral high ground to make such claims.

SC adjourns Cauvery water hearing, protests erupt with farmers hurling on roads
He highlighted that several projects and works in Karnataka are pending clearance from the Central Environment Department, and the BJP should take responsibility for expediting these clearances, as they are hindering the state's development. Shivakumar emphasized the need to work together on water-related issues and expressed his commitment to working in the state's best interests.
Shivakumar suggested that river disputes between states could be resolved through dialogue and criticized the lack of cooperation on this matter. He also expressed displeasure with the central government and called for a meeting between the leaders of Karnataka and Tamil Nadu to discuss the water issue.

CM Siddaramaiah tells Tamil Nadu: We don't have water, can't release to Tamil Nadu
Additionally, legal experts have advised releasing Cauvery water for two days before submitting a petition to the Central Government and the Supreme Court, as non-compliance with the Cauvery Water Management Authority's orders could lead to legal issues. Shivakumar indicated that Karnataka would follow this advice, and he discussed the situation with Union Hydropower Minister Gajendra Singh Shekhawat.
The Siddaramaiah government, following an all-party meeting, decided not to release water, as suggested by the Irrigation Committee, which recommended releasing 5000 cusecs of water daily to Tamil Nadu.
Last Updated Sep 16, 2023, 2:56 PM IST