BJP stages statewide protests in Karnataka, demands govt's accountability
The Bharatiya Janata Party (BJP) in Karnataka has initiated a widespread protest to voice concerns over various issues plaguing the state. The protest, spanning two days, targets the Congress-led government and encompasses grievances such as a significant cash discovery, power cuts, drought relief inadequacies, and a perceived deterioration in law and order.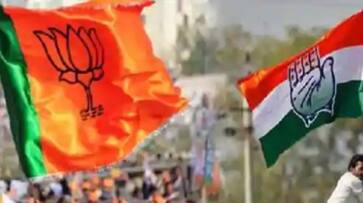 Under the banner of "Statewide Karnataka BJP Protest Today and Tomorrow Against Congress Government Corruption," demonstrations were held in mandals and district headquarters across the state on Monday, October 16. The protests seek the resignation of ministers and deputy chief ministers and convey disapproval of what is described as the government's transformation into a source of funds for the Congress party. 
Also read: Karnataka electricity problems: CM Siddaramaiah acknowledges load shedding issue; check details
The focal point of the protest is the astonishing discovery of ₹42 crores in the house of contractor Ambikapati. This substantial amount is believed to have been received as commission, further shedding light on financial irregularities. Allegations of the corrupt Congress government providing contractors with ₹650 crores in outstanding payments, with the recovered sum constituting a commission, have amplified the public's disapproval.
Several pressing issues are driving these protests. First and foremost, the compensation of drought-affected farmers remains unresolved, amplifying their distress. The state also grapples with persistent power load shedding, adversely affecting the populace. Additionally, the unchecked transfer of government officials and what is perceived as a breakdown in law and order have added to the public's dissatisfaction.
The protests initiated on Monday are anticipated to continue into Tuesday in select locations.
Last Updated Oct 16, 2023, 3:12 PM IST