BJP MP DV Sadananda Gowda expresses concerns over party's state leadership, future prospects
In a candid interview with Kannada Prabha, former Chief Minister and current Bengaluru North MP DV Sadananda Gowda shared his concerns about the state of Bharatiya Janata Party leadership and its implications on Karnataka's political landscape. Here are the key takeaways from the interview: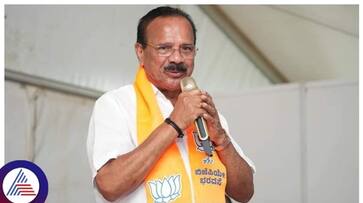 BJP's Struggles in Karnataka: Sadananda Gowda expressed disappointment over the BJP's performance in Karnataka. He noted that the party had yet to appoint a state president and leader of the opposition, causing a setback to the party's organization. This delay has led to a passive stance among party leaders and workers.
National Leaders' Disconnect: The former CM highlighted the disconnect between national and state leaders. He emphasized that the national leaders did not pay adequate attention to Karnataka after the assembly elections, and there was a lack of introspection to address the election defeat.
Impact on Party Organization: The delay in appointing key positions, combined with internal factionalism, has weakened the party's organization. Sadananda Gowda stressed that the longer the delay in these appointments, the weaker the party becomes.
BJP's Factionalism: Factionalism within the party was identified as one of the reasons for the election defeat. Sadananda Gowda explained that internal differences among factions, including Yeddyurappa's faction and national organizing general secretary, contributed to the party's downfall.
Challenges with the JDS Alliance: The decision to form an alliance with JDS was seen as a necessity due to the party's weakness in certain districts. However, Sadananda Gowda suggested that it should have been discussed more thoroughly with state leaders and the core committee before implementation.
Need for Local Leadership: The former CM stressed the importance of trusting local leaders who communicate the party's ideas to voters. He argued that the success of the party depends on the cooperation and trust between national and local leadership.
Karnataka Deputy CM allocates Rs 1 crore subsidy for Bengaluru Kambala
Migration to Congress: Many sitting and former BJP MLAs were reported to be considering or already switching to the Congress. Sadananda Gowda believed that this could have been prevented with prompt appointments of key positions and efforts to address leader discontent.
Reasons for Election Defeat: While Yediyurappa's demotion may have played a role in the election defeat, Sadananda Gowda emphasized that it was not the sole reason. Factionalism and the lack of party unity were also contributing factors.
Leadership Questions: When asked about who should be the state president, Sadananda Gowda refrained from mentioning any specific names, leaving the decision to the party leadership.
Overall, DV Sadananda Gowda's interview sheds light on the challenges and concerns facing the BJP in Karnataka, from internal factionalism to the need for effective leadership and organizational strength. It highlights the complexities and dynamics of state politics within the broader national context.
Last Updated Oct 12, 2023, 4:26 PM IST