Bhadravathi's Mysuru Paper Mills to be restarted soon: Karnataka Minister MB Patil
Minister MB Patil is actively working to revive the Mysore Paper Mills (MPM) factory in Bhadravati, addressing its massive debt and unpaid bills. Discussions with officials and potential privatization are on the table. The factory has substantial land assets and employee considerations.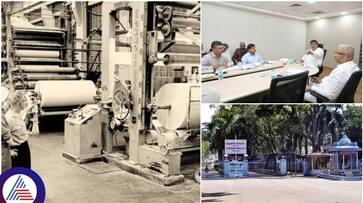 MB Patil, the Minister of Heavy and Medium Industries, is working actively to bring back the Mysore Paper Mills (MPM) factory in Bhadravati, which used to be a symbol of industrial excellence.
The Minister conducted a high-level meeting with Bhadravati MLA BK Sangameswara and other officials. He suggested a meeting chaired by Chief Secretary Vandita Sharma to discuss the factory's debt, unpaid electricity bills, and future plans. LK Atiq, from the Finance Department, and Selvakumar, Principal Secretary of the Industries Department, were also invited.

100-year-old VISL steel factory in Bhadravati restarts production; MP shares video (WATCH)
The factory, initially envisioned by Nalvadi Krishnaraja Wodeyar, the former Maharaja of Mysore State, and Sir M. Visveswaraiah, the then Diwan, is facing a massive debt of Rs 1,482 crore and unpaid electricity bills of Rs. 229 crores since 2010. Patil clarified that this amount was given as a loan. Past attempts to privatize MPM faced difficulties, so the Finance Department's help is needed to address financial issues. Patil mentioned that privatization could be considered after discussions with officials.

When Bill Gates met Kusuma, a branch postmaster, in Bengaluru
MPM has about 23 thousand hectares of land with Acacia, Eucalyptus, and Bamboo cultivation. If the factory is leased, they need to check if they can grow banned blue gram crops. Some MPM employees have shifted to government positions, while others retired voluntarily. Patil directed officials to find ways to increase the salaries of 250 temporary forest watchers.

Industries Department Principal Secretary Selvakumar, Shimoga District Collector, MPM Managing Director Selvamani, APCCF Vanashree Vipin Singh, and Chief Operating Officer Rabindranath were present during the meeting.
Last Updated Sep 7, 2023, 5:17 PM IST