Bengaluru man's love for stray dogs: Find 3 missing dogs from Kumara Park and earn Rs 35000 reward
In Bengaluru's Kumara Park, a caretaker named Prakash is offering a ₹35,000 reward for information leading to the safe return of three missing stray dogs he had cared for like pets. He has filed a complaint with the police, initiating a search operation. The reward serves as an incentive to find the dogs, with a ₹10,000 reward for information leading to the return of a single dog.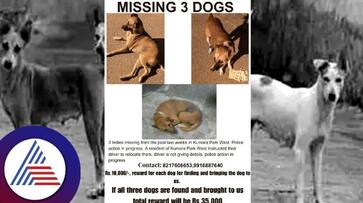 Stray dogs are often treated very poorly, with people trying to drive them out by throwing stones and water at them. However, a heartwarming tale of caretaking has come to light in Bengaluru's Kumara Park area, where a caretaker Prakash has announced a whopping 35000 rupees for those who find 3 missing stray dogs in his area. 
 
For the past ten years, Prakash, an employee at the Kumara Park office, had taken it upon himself to ensure the well-being of these three stray dogs, treating them with the same care and attention as cherished household pets. Their sudden disappearance has left a void in the lives of those who had grown fond of them.

BBMP survey reveals 2.79 lakh stray dogs roaming Bengaluru streets
Fearful that local troublemakers may have relocated the dogs, Prakash decided to take action. He has lodged a complaint with the Seshadripur police station, seeking their assistance in locating and rescuing the missing strays. The police acted swiftly, registering the complaint and initiating a search operation to reunite these dogs with their concerned community.

Bengaluru: Stray dog survey conducted by BBMP reveals 2.8 lakh dogs in the city
As the search for these loyal companions continues, an additional incentive has been offered to encourage anyone with information to come forward. The owner of the missing dogs has pledged a substantial reward of ₹35,000 for anyone who can provide leads leading to the safe return of all three dogs. If a tip leads to the discovery of just one dog, a reward of ₹10,000 will be granted.
To spread the word about this search, the owner has taken to social media and other communication channels, such as the creation and distribution of informative pamphlets.
Last Updated Nov 2, 2023, 3:25 PM IST