BBMP survey reveals 2.79 lakh stray dogs roaming Bengaluru streets
A BBMP survey in Bengaluru reveals a population of 2,79,335 stray dogs, with a significant increase in sterilization rates to 71.85%, indicating progress in controlling the stray dog population. The survey helps inform future policies and plans for stray dog management.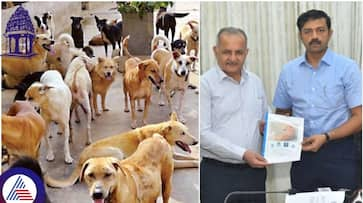 A survey conducted by the Bruhat Bengaluru Mahanagara Palike (BBMP) concerning its jurisdiction, the Special Commissioner of the Corporation's Health and Animal Husbandry Department, Trilok Chandra, revealed a staggering population of 2,79,335 stray dogs. This extensive survey employed the Sight-Resight method, as recommended by the National Anti-Rabies Program for the assessment of the successful implementation of sterilization surgery and anti-rabies vaccination programs.
The survey was carried out across 08 zones of the BBMP, spanning from July 11, 2023, to August 2, 2023. The endeavour was executed in collaboration with 50 teams consisting of 100 surveyors and 15 supervisors, along with the participation of the KP Suresh Institute and officials from the BBMP animal husbandry department and the animal husbandry and veterinary services department of Bengaluru city district.

Bengaluru: Stray dog survey conducted by BBMP reveals 2.8 lakh dogs in the city
The city was divided into four distinct sections - residential areas, sewage areas, commercial areas, and lakes, further subdivided into 6,850 microzones, each covering an area of 0.5 sq km. Among these microzones, a random sample of 20%, totalling 1,360 microzones, was selected for the survey. The surveyors systematically conducted the stray dog survey in collaboration with ward-wise 50 teams, covering the specified period.
In comparison to the previous 2019 Stray Dog Survey, which estimated approximately 3.10 lakh stray dogs with 51.16% having undergone sterilization surgery, the recent survey reported a significant improvement. The survey revealed that a total of 71.85% of stray dogs are now spayed and sterilized, indicating a substantial increase of 20%. This enhanced sterilization rate is expected to contribute to a decrease in the overall population of stray dogs.
The survey results indicated that the current count of stray dogs in the BBMP jurisdiction is less than 10%. The effective implementation of the spay/neuter surgery program is anticipated to lead to a further reduction in the stray dog population over time.

The curious case of declining stray dog population in Bengaluru
The comprehensive stray dog survey serves as a valuable resource for the BBMP in formulating appropriate plans and policies to address the issue of stray dog control effectively in the 08 zones/wards in the near future.
Zone-wise distribution of stray dogs is as follows:
1. East: 37,685
2. West: 22,025
3. South: 23,241
4. Dasarahalli: 21,221
5. RR Nagar: 41,266
6. Bommanahalli: 39,183
7. Yelahanka: 36,343
8. Mahadevpur: 58,371
Total: 2,79,335
Last Updated Oct 4, 2023, 2:46 PM IST