Bengaluru IT Raid: Ambikapati's son Pradeep says 'only Rs 20 crore was found, not Rs 42 crore'
An Income Tax (IT) raid on state contractor Ambikapati's residence initially reported 42 crore rupees found, but his son, Pradeep, clarified it was 20 crore from real estate proceeds. The IT department issued notices to Pradeep and Pramod, who cooperated in inquiries, emphasizing the funds were unrelated to their father's work.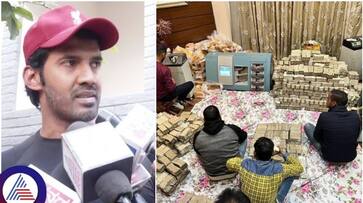 During an Income Tax (IT) raid on the residence of state contractor Ambikapati, it was initially reported that 42 crore rupees were discovered. However, the actual amount found was 20 crore rupees, according to Ambikapati's son, Pradeep, who explained that the money was derived from land sales.
The IT department had conducted the raid a few days ago and subsequently issued a notice to Pradeep, who underwent an 8-hour inquiry on Tuesday. After the inquiry, Pradeep clarified that the 20 crore rupees found at their home were proceeds from their real estate business and had no political connections.

IT raid on Congress leader in Bengaluru nets Rs 42 crore meant for Telangana election use: Reports
Pradeep's brother, Pramod, also received an IT notice and attended a hearing on the 21st. Pramod is scheduled for another hearing on the 26th.

Late-night IT raid in Bengaluru: Officials uncover crores in cash
Pradeep emphasized that the accumulated funds over the past 15 years were not linked to their father, Ambikapati, who had ceased his contracting work two decades ago. Both Pradeep and Pramod had worked as contractors together.
The IT department had been monitoring the collection of money at Pradeep's residence for the past week, leading to the raid. Pradeep intends to cooperate with the IT department's inquiries.
Last Updated Oct 18, 2023, 11:31 AM IST