IT raid on Congress leader in Bengaluru nets Rs 42 crore meant for Telangana election use: Reports
An income tax raid in Bengaluru revealed 42 crore rupees in cash hidden at the home of former Congress corporator Ashwathamma and contractor Ambikapati, raising suspicions of a Congress connection, potentially leading to legal challenges and investigations into money laundering and hawala transactions. The BJP alleges links between the seized money and the All India Congress Committee.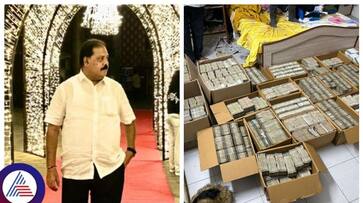 An income tax (IT) raid in Bengaluru on Friday, at the home of former Congress corporator Ashwathamma and contractor Ambikapati, revealed a substantial sum of Rs 42 crore in cash hidden within 23 boxes. The IT raid's timing was crucial as any delay would have reportedly led to the money being sent to Telangana. 
Ashwathamma, who is married to contractor Ambikapati, is related to former MLA Akhand Srinivasamurthy and had previously served as the corporator of Kaval Bairasandra Ward back in 2001. The IT raid targeted her flat in Ward Number 95.

Late-night IT raid in Bengaluru: Officials uncover crores in cash
Two separate raids were conducted in Sultan Palya, one at Ambikapati's residence and another at a flat where Pradeep, Ashwathamma's brother, resided. The Rs 42 crore found in this house was apparently meant to be transferred to Telangana. Pradeep had cleverly hidden the money under a couch and rarely used the room where it was stashed.
Ambikapati and his sister, Ashwatthamma, provided a house for Pradeep, where the illicit money was allegedly concealed. This discovery by the IT department came as a shock to the entire family. As a result, the IT officials have confiscated Rs 42 crore rupees, and they are expected to inform the Enforcement Directorate (ED). 
This could potentially lead to a case being registered under the Prevention of Money Laundering Act (PMLA). The ED is likely to investigate possible hawala transactions, and if their involvement is confirmed, it may lead to the arrest of those connected.

IT raids in Bengaluru since early morning, tax sleuths at 15 locations
Ambikapati and his spouse may encounter legal challenges if they fail to provide a legitimate source for the money.
Additionally, IT officials are conducting a search at Ambikapati's unoccupied house in Kaval Bhairasandhra Ganesha Block. The family vacated the premises in January and began renting the lower unit. The search involves a thorough examination of the documents found in the house and is being conducted by six IT officers, with three policemen providing security.
Karnataka BJP alleges links with Congress
Former BJP minister KS Eshwarappa has alleged a connection between the Congress and the seized money during the recent Income Tax raid at the contractor's house in Bengaluru.

Major IT raids in Bengaluru target businessmen and jewellery shop owners
In response to questions from the media, he suggested that Siddaramaiah and DK had not condemned the IT raid because the money was intended for the All India Congress Committee (AICC).
Eshwarappa called for a comprehensive investigation into the Rs 42 crore discovered, raising questions about whether it was linked to Siddaramaiah and DK. He also highlighted the close relationship between contractors and Congress members, referring to them as being like "siblings" and suggested that this money might have been intended for elections in five states.
Last Updated Oct 13, 2023, 11:08 PM IST