Bengaluru: BMTC to release new app to facilitate online ticketing and real-time tracking of buses
The Bengaluru Metropolitan Transport Corporation (BMTC) is launching a mobile app to celebrate its Silver Jubilee, providing real-time bus schedules, bus locations, and information about nearby stops. They're considering adding e-ticketing features for online payments, streamlining the ticketing process. This innovation aims to save time for passengers and reduce administrative tasks for BMTC staff.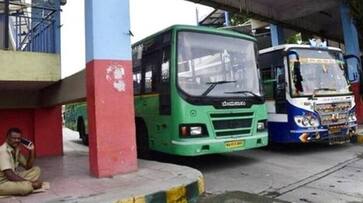 The Bengaluru Metropolitan Transport Corporation (BMTC) is preparing to launch a special mobile app along with the introduction of 25 new bus routes. This app is designed to provide passengers with easy access to BMTC services through their smartphones. Users of the app will receive information about bus schedules, allowing them to track the exact location of buses on different routes. 
A special app is being created to celebrate BMTC's Silver Jubilee, allowing passengers to access BMTC information on their smartphones. This app will provide real-time bus schedules, bus locations on various routes, and details about nearby bus stands and stops. Additionally, it will offer information about all the systems at each station and TTMC.

Former cricketer Anil Kumble rides in BMTC amidst taxi protests in Bengaluru
Furthermore, the app will assist passengers in finding the nearest bus stops and stands based on their current location, enhancing convenience. BMTC officials are considering adding a ticket purchase feature to the app, similar to the model used by airline ticket booking apps. This feature would enable users to make online payments for their bus fares and specify their boarding and alighting points, simplifying the ticketing process.
The introduction of e-ticketing through the mobile app is expected to save passengers time and eliminate the need for onboard ticket transactions. Additionally, this innovation is anticipated to reduce the administrative workload for BMTC staff. Consequently, BMTC officials are actively exploring the implementation of this new system within the app.
Last Updated Sep 17, 2023, 4:51 PM IST