Former cricketer Anil Kumble rides in BMTC amidst taxi protests in Bengaluru
Former cricketer Anil Kumble's choice to take a BMTC bus amid taxi driver protests in Bengaluru earns praise. Additional bus and metro services were introduced to manage commuter inconvenience during the strike. Kumble's down-to-earth gesture was widely applauded on social media.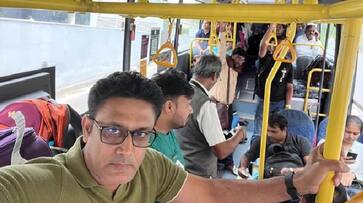 Renowned former cricketer Anil Kumble made headlines when he shared a selfie on Platform X (formerly Twitter), showing himself seated on a BMTC bus. In his tweet, he mentioned, "BMTC trip back home today from the airport."
This gesture came amidst protests organized by Bengaluru's taxi drivers' union and various private driver unions. Their demonstration was in response to the Shakti scheme, which offers free bus services to women in the state. Consequently, private taxi services were unavailable for commuters, leaving them with the option of using their own cars or taking the bus.

Memorable Cricket Moments: 7 historic achievements in Indian Cricket
To manage the situation and ease the inconvenience faced by commuters, the government introduced additional bus and metro services throughout the day. Anil Kumble's choice to use government-owned transportation amid the protests has earned him widespread praise for his down-to-earth attitude.

Bengaluru bandh: Read airport advisory, BMTC and Namma metro step-up services 
Many users took to Twitter to applaud Kumble's decision, acknowledging the private taxi strike in Bengaluru. One user with the handle @vicharabhio wrote, "So simple and down to earth, Kumble sir." Another user, @akshaynatarajan, commented, "Lovely Anil. Wishing more people make use of the Vayu Vajra service."
Numerous others noted that Kumble's choice to take the bus was a practical decision given the ongoing protests in Bengaluru. His tweet garnered significant attention and received praise for his use of public transport.
Last Updated Sep 11, 2023, 1:21 PM IST