Bengaluru: BBMP to penalise non-permitted road digging works
Tushar Girinath, Chief Commissioner of BBMP, proposes fines for unauthorized road excavations by private and government departments in Mahadevpur zone. He emphasizes addressing potholes, unauthorized constructions, footpath encroachments, and Rajkaluve waterway maintenance. Action is urged on the Raj Canal project alignment.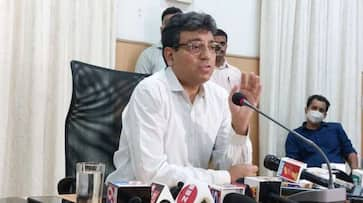 Tushar Girinath, the Chief Commissioner of the Bruhat Bengaluru Mahanagara Palike (BBMP), has suggested imposing fines on both private organizations and government departments that carry out road excavations without the prior approval of BBMP. During a recent coordination meeting with officials from various departments in the Mahadevpur zone, Girinath emphasized the need to penalize departments such as BESCOM and Jalamandali for unauthorized roadwork.
The Chief Commissioner stressed the urgent necessity of addressing potholes on major and minor roads in the Mahadevpur zone, with a particular focus on arterial and sub-arterial routes. He also called upon the engineering department to promptly initiate various infrastructure projects.

BBMP's innovative 'Land Bank' plan to boost waste disposal in Bengaluru
Ward Engineers and the Assistant Director of the City Planning Department conducted joint inspections to identify any unauthorized building constructions within their respective wards. It was recommended that appropriate disciplinary action be taken against those responsible for such unlawful construction.
Girinath also directed the speedy removal of encroachments on footpaths in the Mahadevpur zone, under the supervision of the Zonal Joint Commissioner and the Superintendent of the Solid Waste Department. This task should be expedited, especially in areas where Rajkaluve encroachment clearance operations have been carried out.
In terms of eviction operations, Girinath emphasized that any eviction orders from the tehsildar should be promptly executed. He highlighted the significance of maintaining clean Rajkaluve waterways to ensure the unobstructed flow of water.

BBMP is the main enemy of Bengaluru: Karnataka High Court
The Raj Canal project near Bellandur, executed by Prestige, is currently under examination to ensure its alignment with the survey conducted by the Revenue Department. Girinath insisted on taking action against any deviations from the approved width of the royal canal according to the revenue survey.
The coordination meeting was attended by key officials, including Special Commissioner of the Revenue Department Munish Maudgil, Zonal Commissioner Ibrahim Momin, Zonal Joint Commissioner Dr Dakshaini, BBMP Engineering Department Head Prahlad, Planning Department Chief Engineer Lokesh, and representatives from Metro, Jalmandali, and BESCOM. The discussions centred on the importance of efficient urban planning and infrastructure maintenance in the Mahadevpur zone.
Last Updated Nov 3, 2023, 10:32 AM IST