Bengalureans oppose name change for 'Namma Metro', debate rages online
The proposal to rename Bengaluru's metro rail network after Basavanna has ignited a heated online debate. Some oppose the change, valuing the emotional connection to 'Namma Metro.' Alternatives like 'Namma Basava' and 'Basava Metro' have been suggested, while others propose names like 'Nadaprabhu Kempegowda Metro' or Dr. Rajkumar Metro.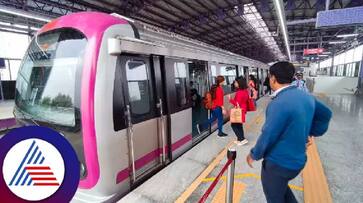 The statement by Large and Medium Industries Minister M.B. Patil suggesting the renaming of the entire metro rail network after Basavanna has sparked a spirited online debate. While some vehemently oppose the name change, advocating the preservation of 'Namma Metro,' others have put forth alternative names for consideration. Commuters and residents have voiced their opinions across various social media platforms, with 'X' Corp hosting much of the discussion.
Many residents argue that 'Namma Metro' is more than just a name; it's an emotional connection for Bengalureans. Over the past twelve years, this title has become deeply ingrained in the hearts and minds of millions of daily users. Some contend that there's no need for unnecessary alterations, as the current name 'Namma metro' means Our Metro, which has a Kannada word in it.

Metro rush madness: Viral video draws comparison to Bengaluru Metro vs Mumbai local trains (WATCH)
Advocates for renaming the metro system have suggested a range of alternatives, such as 'Namma Basava' or 'Basava Metro' to honour the pioneering social reformer Basavanna. Others have proposed the 'Nadaprabhu Kempegowda Metro' in recognition of the actor Shankarnag, who initially envisioned the metro. Meanwhile, there are calls for naming it after revered figures like Dr. Rajkumar.

Bengaluru Metro update: Tunnelling of 718 mtr along Pink Line complete; check details
On the other hand, some believe that maintaining the current name reflects respect for the metro's history and the emotional attachment it holds. A compromise solution has emerged, with the idea to dedicate a major station or interchange junction to Basaveshwara. This approach seeks to strike a balance between honouring history and preserving the name 'Namma Metro.'
The debate extends to the corridors themselves. Presently, they are identified by colours, but some argue for replacing these with names representing prominent Kannada dynasties like Chalukya, Rashtrakuta, Hoysala, Ganga, and Kadamba. Advocates for the status quo emphasize the need to focus on the continued development of the metro system.
Last Updated Oct 30, 2023, 9:22 AM IST