Actor Darshan claims CCTV failure during dog bite incident in statement to Bengaluru police
Actor Darshan appeared at Rajarajeshwari Nagar police station regarding his pet dog's biting incident. He clarified his absence during the event, expressed disappointment over non-functional CCTV, and assured immediate treatment for the injured person. Despite fans' presence with flower bouquets, Darshan maintained a low profile, swiftly completing his statement without addressing the media or admirers.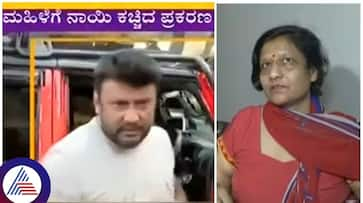 Sandalwood Actor Darshan, involved in a case involving his pet dog's biting incident, appeared at the Rajarajeshwari Nagar police station to file a statement. Clarifying his absence during the episode, Darshan revealed he was shooting for a movie in Gujarat when the unfortunate incident occurred. Expressing disappointment over the lack of proper maintenance, he informed the authorities that it wasn't functioning at the time despite his assertion of CCTV installation.
During his visit, Darshan informed the investigating officer, Police Inspector Shivakumar, that he had instructed the staff to ensure immediate treatment for the injured individual.

Tiger claw pendant row: Karnataka govt mulls granting final opportunity to return wildlife products
Authorities, in their probe, requested CCTV footage from the day of the incident, only to discover that the CCTV system was non-functional on that particular day. Darshan clarified that the CCTV was primarily installed at his R.R. Nagar residence for delivery purposes and was not routinely operational. However, following the dog bite incident, CCTV installation has been revamped for enhanced surveillance.

'It's an old locket given by my mother...' Actor Jaggesh on Tiger claw pendant row
In his statement to the police, Darshan expressed regret over the incident and assured authorities that precautions would be taken to prevent any recurrence.
Darshan's appearance at the RR Nagar police station drew a crowd of eager fans, arriving with flower bouquets to support the actor. However, Darshan maintained a low profile, swiftly concluding the interrogation within 15 minutes without engaging with the media or fans present at the scene. Despite the fans' prolonged wait, Darshan left the premises without addressing anyone, leaving his admirers without an interaction or response.
Last Updated Nov 15, 2023, 3:08 PM IST