Tiger claw pendant row: Karnataka govt mulls granting final opportunity to return wildlife products
Karnataka considers allowing return of wildlife products as awareness of legal violations grows. Recent cases, including a tiger claw pendant controversy, prompt investigations and legal actions. Public figures urged not to wear such items to discourage demand for wildlife products.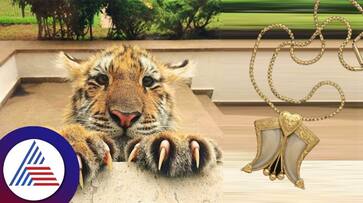 The Tiger claw pendant row in Karnataka has led the concern over the possession of wildlife products within houses. In response, the Karnataka government is considering extending a final opportunity for individuals to return such items, as complaints increase about people unknowingly violating the law. Forest Minister Ishwar Khandre revealed this during a press conference following a meeting with senior Forest Department officials at Vikas Soudha.
The Forest Minister pointed out that a lack of awareness about the Forest Department's regulations has led to violations of the Wildlife Protection Act and other related laws by the general public. To address this issue, a comprehensive awareness campaign is being planned.

Rajya Sabha MP Jaggesh faces complaint over tiger claw pendant
Before 2003, the Forest Department had offered multiple opportunities for individuals to claim ownership of wildlife products, including trophies, plaques, and pendants made from animal parts, which may have been inherited from their ancestors. Many people successfully claimed ownership during this period, while others did not receive confirmation and certification.
There have been cases of individuals, particularly in rural areas, possessing items such as deer skins, elephant ivory artefacts, and deer and stag horns without knowledge of the legal implications. To address this issue and offer a solution to those unaware of the law, the government is considering allowing the voluntary return of such illegal stockpiles.
Following the recent controversy involving Varthur Santosh, a contestant on the Kannada reality show Bigg Boss, who was found in possession of a tiger claw pendant, eight complaints have been lodged by the public. The Forest Department is actively investigating these cases and will take appropriate legal action.

'It's an old locket given by my mother...' Actor Jaggesh on Tiger claw pendant row
The law applies equally to all individuals, irrespective of their status or celebrity. Notable personalities, including actor Jaggesh, have been issued notices regarding wildlife products in their possession. Officials emphasized that they would exercise their discretion in accordance with the law and specific circumstances.
In a bid to discourage the wearing of even fake tiger claw pendants, actors and public figures are being requested not to wear such items, as it may indirectly contribute to the demand for wildlife products and the killing of endangered species. Additionally, jewellery stores will be instructed to display signs indicating that the sale and possession of wildlife jewellery are punishable offences.
The recent controversy over the possession of tiger claw pendant, involving actors Darshan and Nikhil Kumaraswamy, received attention as the Additional Principal Chief Conservator of Forests, Kumar Pushkar, stated that the seized tiger claws appeared to be fake, effectively clearing both individuals of any wrongdoing.

Bigg Boss Kannada contestant Varthur Santosh arrested over Tiger claw locket
Furthermore, although the Forest Department issued notices regarding the possession of tiger claw pendants to several film actors, including Darshan, Nikhil Kumaraswamy, Jaggesh, and Rockline Venkatesh, there has been no response from these individuals to date.
It's important to note that several activities, including the possession of wildlife products, are considered offences under the Forest Act, such as cutting down saplings and trees in the forest, uprooting, hunting wild animals and harvesting their organs, unauthorized entry into sanctuaries, possession of weapons without proper authorization, and fishing within National Parks.
Last Updated Oct 27, 2023, 11:56 AM IST