'Karnataka is reigned by demons...' MP Pratap Simha slams Congress govt
MP Pratapa Simha plans a "Chamundibetta Chalo" protest on August 13 to uphold Goddess Chamundeshwari's honor during Mahisha Dussehra. He expresses concerns about the rise of Mahisha Dasara celebrations and urges officials to reduce train travel time between Mysore and Bengaluru.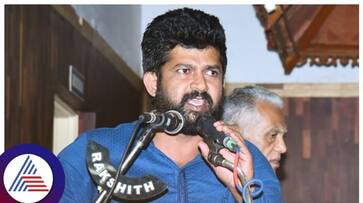 MP Pratapa Simha has announced his protest against Mahisha Dussehra in an effort to uphold the honour of Goddess Chamundeshwari. At a press conference held at the BJP office, he disclosed that the "Chamundibetta Chalo" event will take place on August 13 at 8 a.m. He emphasized that participants would ascend the hill on foot, although those preferring vehicles could use them.
Simha mentioned that approximately 5,000 people would participate in the protest to offer their prayers and requested the police and other officials to attend. He explained that the intent behind this protest was to ensure that Dussehra was celebrated with reverence and that the traditional worship of Chamundi's mother would not be disregarded or insulted.

Cauvery water being covertly diverted to Tamil Nadu: MP Pratap Simha
Furthermore, he commented on the Ragigudda riot case in Shimoga, expressing concerns about the rise of celebrations related to Mahisha Dasara since Siddaramaiah's arrival. He accused the government of indirectly cooperating with the PFI organization and diverting attention from the riots instead of addressing them.
Regarding train travel time between Mysore and Bengaluru, MP Pratap Simha directed officials to take immediate and strict measures to further reduce travel time. During a meeting with representatives from the Railway Department and National Highways Department at Jaladarshini Guest House, Singh highlighted the need for faster travel options. He pointed out that while the Mysuru-Bengaluru Expressway allows a 2-hour bus journey to Bengaluru, the train still takes 3 hours, which is causing inconvenience to passengers.

No discontent within BJP over alliance with JD-S: BS Yediyurappa
Singh urged officials to expedite station access to prevent time wastage and requested discussions on the implementation of a high-speed train project. He also shared plans to operate four MEMU trains from Ashokapuram railway station, set to launch after Dussehra.
Additionally, Singh mentioned the ongoing development of Mysuru Central Railway Station at a cost of approximately 356 crores. Due to the state government's failure to provide land for a planned terminal near Naganahalli, the project is now set to encompass about 60 acres near the existing station. Singh announced the conversion of several existing trains into super-fast trains, enhancing connectivity for passengers.
Last Updated Oct 5, 2023, 9:55 AM IST