No discontent within BJP over alliance with JD-S: BS Yediyurappa
Former Karnataka Chief Minister BS Yediyurappa has provided clarity on the BJP's position regarding its alliance with the JD(S), stating that there is no discontent within his party regarding this partnership.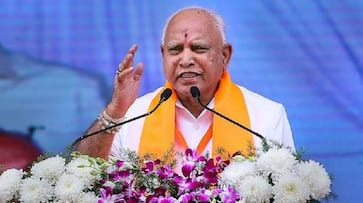 Yediyurappa remarks came during the BJP's Central Election Committee meeting in Delhi, convened in light of the upcoming five state elections. Addressing reporters in the national capital, he responded to comments made by JD(S) state president CM Ibrahim, emphasizing that the alliance's dynamics were an internal matter for the JD(S).
However, Yediyurappa confirmed that he had received comprehensive information regarding the alliance, and discussions on seat allocation were ongoing. He emphasized that the BJP was committed to abiding by the decisions made by the party's high command. While there might be concerns among Muslim leaders in the JD(S), he believed that any departures from the party would have minimal impact, citing historical patterns of Muslim support.
 Karnataka: Eid procession in Shimoga turns violent over controversial cutout; Section 144 imposed
Yediyurappa also commented on 'Operation Hasta,' assuring that no BJP leader would be defecting to the Congress. He expressed an intention to engage with party members, including Ramappa Lamani, and believed that any individual leader's departure would not detrimentally affect the party.
Additionally, he mentioned a special Puja performed on Prime Minister Narendra Modi's birthday, where prayers were offered for his good health and a return to the position of Prime Minister. 
He stated his intent to tour the state and address the state government's perceived failures, particularly in the context of severe drought conditions. 
He pledged to raise awareness about these issues and vowed to organize activist meetings across the state, aiming to secure more than 25 seats in the upcoming Lok Sabha elections.
Last Updated Oct 2, 2023, 1:31 PM IST