'India's name should remain unchanged': Karnataka CM Siddaramaiah stands firm
In the midst of ongoing discussions about potentially renaming India as the 'Republic of Bharat,' Karnataka Chief Minister Siddaramaiah has taken a clear stance. He firmly emphasized that the nation's name, India, as enshrined in the Constitution and universally accepted, should remain unaltered.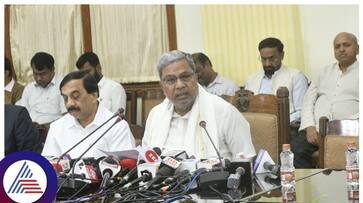 Furthermore, Siddaramaiah has made headlines by relocating to his cherished 'Kaveri' residence after serving 100 days in office as Chief Minister. 
He was joined by his family, including his wife Parvathamma and son Yatindra Siddaramaiah, who participated in a special pooja at the residence. The move holds significance as Siddaramaiah had previously resided at the Kaveri residence during his previous tenure as Chief Minister. It underwent a period of different occupants in the intervening years. 
Teacher's Day: Karnataka CM Siddaramaiah pens special article
In another development, Siddaramaiah addressed the contentious issue of water distribution to Tamil Nadu. He asserted that due to insufficient rainfall and the state's own water scarcity, it is impossible to release water to Tamil Nadu. He clarified that Karnataka's intent is not to withhold water but rather the absence of an adequate water supply.
 CM Siddaramaiah tells Tamil Nadu: We don't have water, can't release to Tamil Nadu
He also cited the necessity of safeguarding Karnataka's crops and providing drinking water to its people. He also advocated for the Mekedatu project, which could potentially address these water concerns and urged the Central government's intervention.
Last Updated Sep 6, 2023, 2:57 PM IST