WATCH: MotoGP Bharat champion Marco Bezzecchi receives trophy from UP CM; graced with standing ovation
Marco Bezzecchi has won the inaugural MotoGP Bharat, while Francesco Bagnaia lost second place when he crashed out shortly after overtaking title rival Jorge Martin.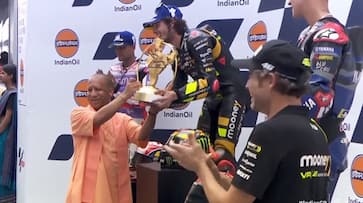 Marco Bezzecchi claimed victory in the inaugural MotoGP Bharat at New Delhi's Buddh International Circuit, while Francesco Bagnaia lost the second position after crashing shortly after overtaking title rival Jorge Martin. Following the win, the Italian racer received a standing ovation from Indian MotoGP fans at the BIC and was handed over the winning trophy by Uttar Pradesh Chief Minister Yogi Adityanath.
Here's a look at how Indians celebrated Bezzecchi's winning moment:
At the start, it was Martin who took the lead from Bezzecchi, but Bagnaia also made a move, applying pressure to Martin as they approached turn three.
Martin, pushing the limits under braking, ran wide, allowing Bagnaia and Bezzecchi to pass him.
Bezzecchi, the fastest rider in the previous day's sprint, wasted no time taking the lead by diving inside Bagnaia at the final corner.
Bagnaia attempted to respond as they exited the corner, but Bezzecchi managed to maintain his lead by finding enough traction. Bezzecchi then extended his lead as he pulled away from the world champion.
After a couple of laps behind Bagnaia, Martin finally overtook him, putting pressure on series leader Marc Marquez. However, Marquez lost control of his Honda and crashed at turn one on lap six.
As Bagnaia followed Martin along the main straight, he almost clipped the rear of Martin when he made a braking error.
Despite his efforts, Martin continued to lose time to race leader Bezzecchi and was 3.8 seconds behind on lap 10.
Aleix Espargaro, running behind Brad Binder in seventh place, suffered his second non-finish due to a gearbox issue that left him stuck in second gear.
Meanwhile, Bagnaia was gearing up for an overtaking move on Martin for the second position, but he suddenly crashed out after losing the front end of his bike.
Martin's race had its share of challenges too, as his leathers came undone after Bagnaia's mistake. He lost a full second while attempting to zip up his Alpinestars suit with four laps to go.
Despite this setback, Martin quickly regained the lost time and managed to pass Fabio Quartararo. However, he made a mistake on the final lap, allowing Quartararo to overtake him. Martin responded with a bold move around the outside of Quartararo, narrowly avoiding a collision as they battled for position.
Last Updated Sep 24, 2023, 4:50 PM IST