Uri sentiments will fade, but war is a far cry
The truth is that if we could hit back, we would have done that after the attack on Parliament.
We for long internalised `retreat and surrender' in the face of a long series of foreign invasions.
In sum, do not expect a `fitting reply' for Uri, Pathankot, or Gurdaspur.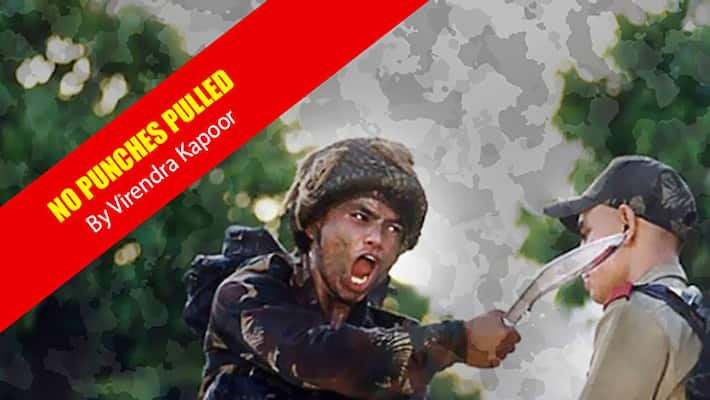 Away from the news TV cameras, security and foreign policy specialists will tell you that it is foolhardy to think of replying to Pakistan in its own coin.  The truth is that if we could hit back, we would have done that after the attack on Parliament when Vajpayee was prime minister. Pressured by the Americans to pull back troops after they had sat on the border for eleven months, India at least had the satisfaction of a face-saver when Pakistan publicly committed not to allow its soil to be used by anti-India jihadis.
But Pakistan soon got back to its old ways. The 26/11 Mumbai attack was by far the deadliest. More than 160 innocents perished in that devilish atrocity. Yet, nothing was done to `teach Pakistan a lesson.' Manmohan Singh was prime minister at the time. Writing in a contemporary after Uri, then National Security Adviser M K Narayanan has discussed in some detail the fervid activity at the time terrorists were still holed up in the iconic Taj Hotel in Mumbai.
A shell-shocked political leadership was keen to respond to assuage the intense public anger.  The high-level meetings presided over by Singh himself, however,   came to the painful conclusion that military action would be counter-productive. Cost-analysis of an armed response, it was felt, would eventually end up hurting India far more than it would hurt Pakistan. Why risk disruption of economic progress for an illusory pleasure of avenging an atrocity, ask the realists.
In fact, those pressing for a tit-for-tat response will particularly feel angry at Narayanan's suggestion that the only plausible response to Uri can be a cyberwar against Pakistan, especially given India's far superior capabilities in the IT sector.  In other words, our options to take revenge are woefully narrow. As for strategic restraint and naming and shaming Pakistan in world councils, the truth is that Pakistan does not care a fig.
The US, still the biggest power by some distance despite the rise of China and the reassertion by Russia under Putin, is being double-crossed daily by Pakistan. Frankly, the fact that Osama bin Laden, on whose head the Americans had announced a reward of $ 25 million was holed up in an ISI safe house in a military cantonment ought to have invited the wrath of the mighty Americans. The US continues to do business with Pakistan as if nothing had happened.  
The US's  failure to command the obedience of the Rawalpindi GHQ despite its gifting hundreds of billions in aid and military arsenal only underscores the inherent difficulties in waging a half successful war against terror. The US failure in Afghanistan even after waging anti-terror war for over 15 years is proof that neither money nor superior military arsenal can win  if an inimical neighbour is hell-bent on subverting your cause. The Afghan Taliban would have crumbled long ago but for the active support of ISI. And yet, the Americans have not been able to tame the evil ISI.                            
As for launching covert operations, the truth is that we do not have human assets in Pakistan. And they have a massive fifth column to rely upon to target India both from within and without. The few assets on the ground that India had were ordered to be abandoned by I K Gujral, one of the few accidental prime ministers that we have had. Gujral probably dreamed of 'sadda Lahore' even in his sleep. He ordered RAW to stop nurturing its agents in Pakistan.       
Therefore, notwithstanding the brave talk by the likes of Ram Madhav and others in the ruling party, we do not see Pakistan giving up its jihadi anti-India mission.  Defence Minister Manohar Parrikar, who, alas, has not lived up to his promise, instead of issuing empty threats ought to be more concerned about  the glaring holes in the security apparatus which  resulted in repeated attacks on military establishments under his watch.   
As   a people, we had for long internalised  `retreat and surrender' in the face of a long series of  foreign invasions. Truth be told, we lack the spunk to repulse those who raid our house and even burn it down before our eyes.  Bangladesh was different. Then the entire population of what was East Pakistan had risen in revolt against the barbaric Punjabi- Muslims who control the Pak Army and the civilian establishment.
In sum, do not expect a `fitting reply' for Uri, Pathankot, or Gurdaspur. Nor for the continuing Pak-inspired mayhem for more than two months now in the Valley. We are like that only. Our history bears witness that we are quick to come to terms with aggressors/ occupiers. The memory of Uri too will fade when new crises dominate the airwaves.  In any case, intense anger is never prolonged.    
However, if it is any consolation, it must be noted that on all key socio-economic indicators we are doing far better than Pakistan. A people steeped in a jihadi-fuelled ignorance that routinely kills poor polio inoculators, who haven't known true democracy, and enjoys no basic rights, ordinary Pakistanis are in fact deserving of our sympathy. They are the voiceless prisoners of the army generals who have fattened themselves enormously at their cost.
Last Updated Mar 31, 2018, 6:39 PM IST