Unbelievable! This Mizoram house accommodates a staggering 199 people from the same family
The article explores the incredible story of Baktawang village in Mizoram, India, home to the world's largest family, highlighting their enduring legacy, unique communal living, and the remarkable journey led by Ziona Chana, despite his passing in 2021.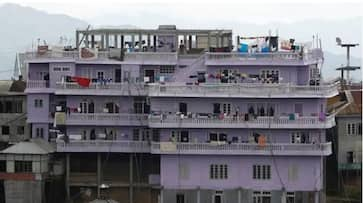 Baktawang village in Mizoram, India, gained global attention as the residence of the world's largest family, all living together in a single house. Originally led by Ziona Chana, the colossal household comprised an astounding 199 family members. Unfortunately, Ziona Chana passed away in 2021 at the age of 76 due to complications related to high blood pressure and diabetes.
At the time of his passing, Ziona Chana had an extraordinary family structure, being married to 38 wives and having 89 children, each with their respective spouses, along with 36 grandchildren. Despite his death, the family continues to reside in their expansive living complex situated in the hills of Baktawang.
The enduring legacy of this remarkable family is evident in their unique communal living arrangement. Even with the patriarch's demise, the family persists in sharing a home under one roof, highlighting the strength and resilience of their close-knit bond.
In the remote village of Baktawang in Mizoram, India, stands the four-story house that has garnered global attention as the residence of the world's largest family. Comprising around 100 rooms, this unique structure has become a tourist attraction due to the presence of the extraordinary Chana family.
Ziona Chana, the patriarch of the family, was a member of the "Chana" sect, established by his father in 1942, boasting a membership of hundreds of families. Ziona's marital journey began at the age of 17 when he wed his first wife, and astonishingly, he claimed to have married ten wives in a single year.
The family's living arrangement is as unique as its size. The four-story house includes a private bedroom for Ziona and a shared dormitory for the wives, located nearby. Ziona, according to locals, preferred having seven or eight wives by his side at all times.
Gatherings in the expansive dining hall resemble a large hostel mess when the entire family comes together for meals. Despite the enormity of his family, Ziona expressed his desire to further expand it in a 2011 interview with Reuters.
"I am ready to expand my family and willing to go to any extent to marry," he had said. "I have so many people to care for and look after, and I consider myself a lucky man."
Even with the passing of Ziona Chana in 2021, the family's presence continues to make Baktawang a notable destination, showcasing their resilience, unique communal living, and the legacy left behind by their patriarch.
Last Updated Nov 14, 2023, 7:05 PM IST