'Thanks for ruining...' Passenger with confirmed ticket misses train due to heavy rush, demands 'full refund'
A passenger on X (formerly Twitter) shared a video claiming to have bought a confirmed ticket, yet missed out on his journey because he was unable to get inside a train in Gujarat's Vadodara. Watch the video here.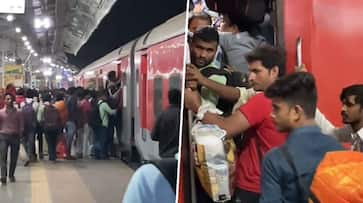 Indian Railways once again faced criticism for poor handling of the festival rush as ridership increased exponentially ahead of Diwali. Numerous social media videos depict crowded trains and sizable crowds on train platforms, leaving many passengers stuck and unable to get where they were going.
A passenger took to X (formerly Twitter) and shared a video claiming he bought a confirmed ticket yet missed his train because he was unable to get inside the train due to the festive rush in Gujarat's Vadodara. He also added that many people like him were not able to board the train because of the crowd.
Also Read | Ayodhya Deepotsav 2023: Over 22 lakh diyas illuminate Lord Ram's city on Diwali (PHOTOS)
"Indian Railways worst management. Thanks for ruining my Diwali. This is what you get even when you have a confirmed 3rd AC ticket. No help from the Police. Many people like me were not able to board. I want a total refund of ₹1173.95," the person wrote and tagged Railway Minister Ashwini Vaishnaw and Divisional Railway Manager (DRM) Vadodara.
"The labour crowd threw me out of the train. They locked the doors and they did not let anyone enter the train. Police said clearly no to help me and started laughing at the situation," he added.
DRM Vadodara responded on social media urging the railway police to look into the incident. Due to people racing to their hometowns in advance of the Diwali and Chhath Puja festivals, there were also reports of massive traffic jams and crowds at bus stops and railway stations in various areas of the national capital.
Also Read | Telangana Election 2023: 'Beta, ye thik nahi hai…' PM Modi to woman as she climbs light tower during rally
Last Updated Nov 12, 2023, 12:00 PM IST