Telangana Election 2023: 'Beta, ye thik nahi hai…' PM Modi to woman as she climbs light tower during rally
PM's rally was interrupted after he noticed a young woman climbing a structure on which lights were fixed in the Parade Grounds. The prime minister repeatedly requested the young woman to come down and saying the condition of electric wires appeared to be not good.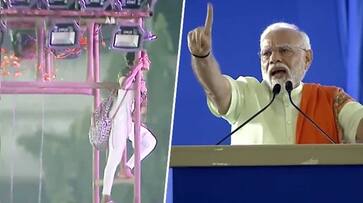 Prime Minister Narendra Modi was speaking to the crowd at an electoral rally in Hyderabad, Telangana, on Saturday when a young woman climbed a structure on which lights were fixed in the Parade Grounds to be able to speak to him when he was addressing the crowd. 
A video from the rally has come to the fore where the woman can be seen climbing the poles surrounded by huge lights and electrical wires while PM Modi can be seen repeatedly requesting her to climb down, citing the dangers of short circuit.
In the video, PM Modi can be repeatedly heard saying, "Beta, ye thik nahi hai. Aisa karne se koi laabh nahi hoga. Mai aapke liye hi yaha aaya hu (This is not right. You won't benefit by doing this. I have come here to listen to you only. Don't do this. Please come down and sit)." 
She wanted to tell PM Modi something, so he tried to calm her down while also warning her that the wire was not in good condition and may cause a short circuit. 
During the event, PM Modi was seen at the outset consoling a very distressed Manda Krishna Madiga, the leader of the Madiga Reservation Porata Samiti. Madiga started crying, and the prime minister gave him a hug.
Prime Minister Modi travelled to the city to speak at a gathering hosted by the Madiga Reservation Porata Samithi (MRPS), a Madiga community body that is one of the largest groups of Scheduled Castes in the states of Telugu.
Last Updated Nov 12, 2023, 11:04 AM IST