Telangana Election 2023: CM KCR says his BRS will 95-105 seats
KCR, who also leads the Bharat Rashtra Samithi (BRS), is optimistic about his party's performance in the upcoming assembly elections. He acknowledges the challenges posed by economic setbacks due to demonetization and the COVID-19 pandemic but emphasizes the need to continue the state's development and welfare programs.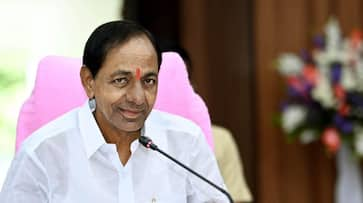 Bharat Rashtra Samithi President and Telangana Chief Minister of K Chandrashekar Rao has expressed confidence that his party would emerge victorious in the upcoming assembly elections, securing between 95 and 105 seats in the 119-member house. He was speaking at an extensive constituency-level BRS meeting in Gajwel, which he represents in the legislative assembly. Stating that although Telangana's economic growth had dipped due to demonetisation in 2016 and the COVID-19 pandemic following which some development programmes slowed down due to financial constraints he said the "youngest state of the country achieved great heights in development through many hardships and sacrifices".
For More Coverage of Telangana Election 2023
Calling upon the people to work hard for the party's candidates to win with a huge majority, Rao said the state has reached a critical stage in its growth and that the BRS should win again for the ongoing development and welfare schemes to continue, a press release issued last night said, quoting Rao.
"We should not be satisfied with the present growth and achievements. Striving for excellence is a continuous process and we should provide a good quality of life to people," he said.
CM KCR said the people of Gajwel adored him and presented him with a "wonderful victory" two consecutive times. He added that the assembly constituency had been developed and that he would work for its further growth. Observing that groundwater levels have fallen in all parts of India, Rao said that in Telangana, however, they have increased and that studies have revealed that the construction of the Kaleshwaram project and the Kondapochamma and Mallanna Sagar reservoirs helped improve groundwater levels in the state.
For More Coverage of Telangana Election 2023
Last Updated Oct 21, 2023, 12:26 PM IST