Supreme Court to rule on same-sex marriage validity; major verdict on Tuesday
After an extensive hearing, a five-judge constitutional panel led by Chief Justice D Y Chandrachud is poised to reveal its decision. The petitioners, represented by prominent advocates, emphasized equality rights for the LGBTQIA+ community and sought legal recognition under the Special Marriage Act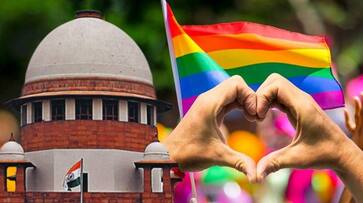 The Supreme Court is poised to make a historic judgment on Tuesday regarding the legal recognition of same-sex marriages. This eagerly awaited decision follows an intensive 10-day hearing before a five-judge constitution bench led by Chief Justice D Y Chandrachud, with the participation of Justices Sanjay Kishan Kaul, S Ravindra Bhat, Hima Kohli, and P S Narasimha. The verdict is scheduled for delivery on Tuesday, and the latest information will be promptly updated on the Supreme Court's official website, according to reliable sources.
The Petitioners' Demand
Throughout the hearings, the petitioners, represented by senior advocates such as Mukul Rohatgi, Abhishek Manu Singhvi, Raju Ramachandran, Anand Grover, Geeta Luthra, KV Viswanathan, Saurabh Kirpal, and Menaka Guruswamy, passionately advocated for the LGBTQIA+ community's equal rights and the recognition of their unions by the state.
The petitioners' argument entailed the legal recognition of same-sex marriages under the Special Marriage Act (SMA), emphasizing the importance of granting dignity to these unions and ensuring the community's access to social security and other welfare benefits. In a noteworthy move, the Delhi Commission for Protection of Child Rights (DCPCR) also championed the recognition of such marriages, submitting an intervention application to provide insights into the potential impact on children.
The Centre's Stand
During the arguments, the Central government advised the Supreme Court against issuing a constitutional declaration regarding the validation of same-sex marriages. They expressed concerns about the court's ability to anticipate, envision, understand, and manage the potential ramifications of such a declaration.
Additionally, the Central government informed the court that it had received responses from seven states regarding same-sex marriage. Notably, the governments of Rajasthan, Andhra Pradesh, and Assam had opposed the petitioners' request for legal endorsement of such unions.
The legal proceedings in this matter commenced on April 18 and concluded in May when the five-judge Constitution bench, presided over by Chief Justice D Y Chandrachud, reserved its verdict. Throughout the process, the justices remained faithful to the constitutional doctrine that prohibits them from directing legislation, policy formulation, or entering the domain of policy-making.
Last Updated Oct 16, 2023, 7:34 PM IST