Solar Eclipse: Parts of south India to witness 'Ring of Fire'
The Sun will turn into a ring of fire when the moon covers the star on December 26. Solar eclipse will begin at 7.59 am and end at around 1.30 pm.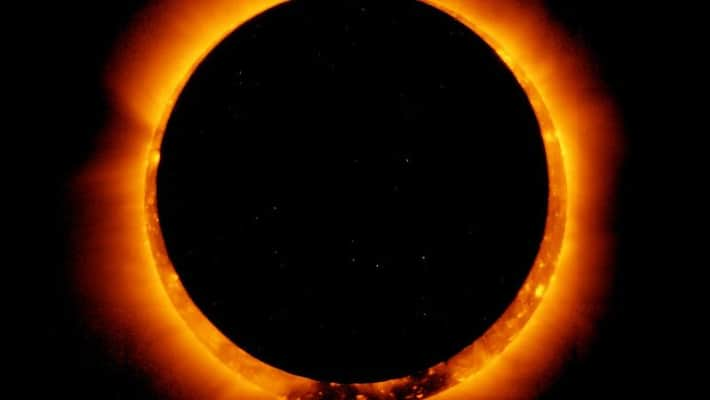 Bengaluru: While the entire world is celebrating Christmas, there is one last grand celestial event to occur before we bid goodbye to this year and the second decade of the 21st century. The event will be an annual solar eclipse that will appear as a 'ring of fire' instead of being a total eclipse. 
The eclipse, also known as Surya Grahan, will begin at 8 am on Thursday and will last for around six hours before ending at around 1.30 pm.  
The annular solar eclipse of 2019 will be visible in most of Asia alongside North/East Africa, and North/West Australia. A partial eclipse will be visible in the Asia Pacific and Indian Ocean region too.
The December 26 solar eclipse will be visible most prominently from South India. Cities such as Kannur, Kochi, Kozhikode, Thiruvananthapuram (Trivandrum) in Kerala; Coimbatore, Madurai, Ooty, Trichy and Chennai in Tamil Nadu; Mangaluru and Bengaluru in Karnataka; and Puducherry are among the places in South India that will be able to fully witness the solar eclipse on Thursday. Other parts of India too will witness the solar eclipse in varying intensity.
Unlike the total solar eclipse, the annual solar eclipse occurs when a new moon is farthest from the earth. The ring-like structure of light is formed surrounding the moon. The moon will not be able to cover the sun as it smaller than the star. Even as the whole of moon covers the sun, the edges of the star will be left uncovered. This will lead to the 'ring of fire' phenomenon where the sun appears as a disc with its edges illuminated in an angry reddish yellow hue.
The solar eclipse 2019 will begin at 7:59 am IST. It will initially be visible as a partial eclipse and emerge in Riyadh, Saudi Arabia first. After the partial eclipse, the annular solar eclipse will begin to take place in the sky. The event will be visible starting 9:04 am IST, while the maximum eclipse will be visible at 10:47 am IST. The full eclipse will reach the last location that would be Guam in the Pacific Ocean at 12:30 pm IST.
Last Updated Dec 25, 2019, 6:23 PM IST