Rajeev Chandrasekhar slams Rahul's 'belated wisdom' on OROP
Independent Rajya Sabha member Rajeev Chandrasekhar took a jibe at the Congress vice-president Rahul Gandhi
Rajeev Chandrasekhar questioned Rahul Gandhi over the successive UPA governments' "inaction" on the OROP issue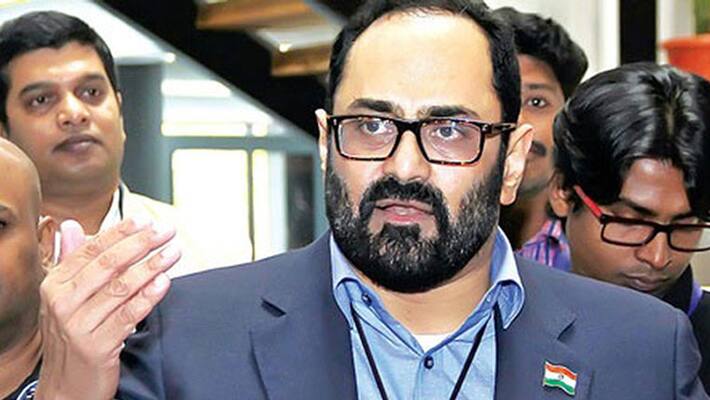 Stating that most Indians were anguished about Grewal's suicide, Chandrasekhar said he "suspected" that Rahul was trying to convey his concern by visiting the ex-serviceman's family at Ram Manohar Lohia hospital, along with an entourage shouting "Rahul Gandhi ki jai".

"However, may I respectfully suggest that going with an entourage shouting 'Rahul Gandhi ki jai' to a hospital full of patients and worrying relatives may not be the best way to show your recently discovered concern for (army) veterans," he said in an open letter to the Congress vice-president.
Rahul has been making repeated attempts to keep up his campaign on the cause of 'One Rank, One Pension' (OROP) ever since the issue came back to limelight after the suicide. He was detained by Delhi Police thrice in two days for attempting to meet Grewal's family at the hospital and then, for taking out a candlelight march to India Gate without permission.
Stating that successive UPA governments' actions and conduct on OROP were there in the public domain, Chandrasekhar said his many letters and meetings on the matter with the then prime minister, defence minister, UPA chairperson and also Rahul, urging for its implementation, were met with "either a can't do it or a stony silence".
    
"There was even a Parliamentary Committee of Petitions under Shri Koshiyari which studied a petition that I was instrumental in submitting and even its report submitted in 2011 was ignored by the UPA government," he added.
Enclosing copies of the letters he had written to Rahul on OROP and other issues related to the armed forces, Chandrasekhar said it was probably "not politically interesting enough" for him (Rahul) then and it took him years to even mention and get to the issue and even then, it was only before the 2014 general election as a "pre-poll stunt".

    
Claiming that OROP was "hurriedly" announced by the UPA government prior to the Lok Sabha election, he said, "Adding insult to injury was your finance minister allocating a mere Rs 500 crore - a cruel joke - which would not have been enough for enhanced pensions for even 10 per cent of the (army) veterans."
Noting that the current NDA government announced the implementation of OROP, despite "serious objections" from the Finance Ministry on the fiscal implications costing almost Rs 8,300 crore per annum and a one-time cost of over Rs 20,000 crore, Chandrasekhar reminded Rahul that in 2008, the then Defence Minister AK Antony had stated that the UPA government had "not found the OROP demand acceptable". Chandrasekhar said he never once recalled Rahul showing solidarity with the struggle of the army veterans throughout the UPA regimes.
"Rahul - I accept the premise that yours may be a case of belated wisdom and compassion dawning. That is a good thing. But, it's a bit trite to assume that past records of political parties will be forgotten and that the country doesn't realise how far we have come in the cause of serving and repaying our (army) veterans in the past two years, compared to the past four decades," he added.
    
Agreeing that there were some complex issues pending as regards OROP, including some "fundamental" ones to ensure consistency with the definition, Chandrasekhar reminded the Congress vice-president that a one-man judicial committee was set up to look into these anomalies and it had only recently submitted its report.
    
Calling Grewal's suicide a "terrible blot" on a nation that takes pride in its armed forces and the tradition of service and sacrifice they represent, he said, "It is indisputable that over the past several decades, the Defence Ministry and the bureaucracy have become apathetic and uncaring to the plight of our (army) veterans, widows and the serving forces and their families."
"There is no doubt that this needs changing and transforming and that is where the genuine political anger, if any, must be focused. Grandstanding and political opportunism tend to stale rapidly and hypocrisy even faster," Chandrasekhar said.
Last Updated Mar 31, 2018, 6:59 PM IST