Protests back in Bengaluru: Bengaluru women raise slogans against CAA, NRC, NPR
These women protesters staging demonstrations in Bengaluru chanted slogans of 'Azaadi' and said they don't need CAA, NRC and NPR.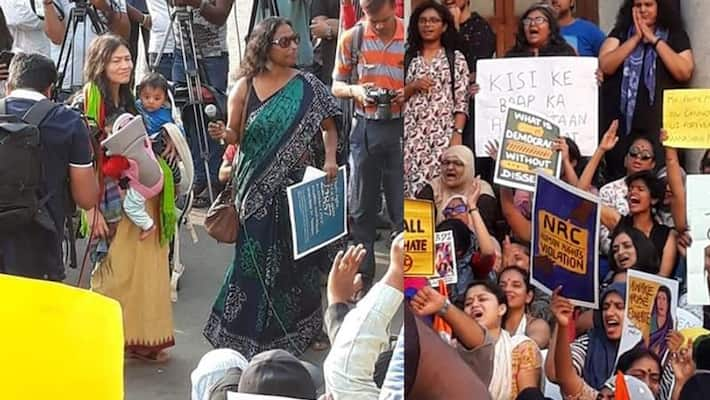 Bengaluru: Protests opposing Citizenship Amendment Act (CAA), National Register of Citizens (NRC) and National Population Register seems to have returned in Bengaluru as demonstrations surface every now and then across the country.
In the latest, chanting slogans of 'Azaadi' (freedom), women on Sunday held the protest at Tannery Road in Bengaluru over the Citizenship Amendment Act, National Register of Citizens and National Population Register.
However, this did not seem like a direct opposition to CAA and NRC as women holding the protest claimed to be supporting Delhi's Shaheen Bagh protest. According to ANI, one of the protesting women said, "We are Indians. We are against CAA. We don't need to prove this to anyone. We don't need CAA, NRC, and NPR".
"We will continue to protest until these disastrous policies will be withdrawn", she added.
Protests have erupted against the CAA in various parts of the country, including the Shaheen Bagh area of the national capital, since Parliament gave its nod to the Citizenship Bill last year. The protest opposing CAA has been going on for over 55 days at Delhi's Shaheen Bagh.
Prime Minister Narendra Modi on Thursday launched a blistering attack on opposition parties on their attempt to "misguide and misinform" the nation on the CAA. He said there was an attempt to cover undemocratic activity under the garb of protests opposing the law.
The CAA grants citizenship to Hindus, Sikhs, Jains, Parsis, Buddhists and Christians fleeing religious persecution from Pakistan, Afghanistan, and Bangladesh and who came to India on or before December 31, 2014. 
Last Updated Feb 9, 2020, 6:08 PM IST