The Congress' stand on demontisation is simply disappointing
First, the opposition lacked the leadership to lead the debate against demonetisation.
Rahul Gandhi has to corroborate his recent accusations against PM Modi to earn any credentials.
PM Modi relied on public support and used every possible platform to connect to people.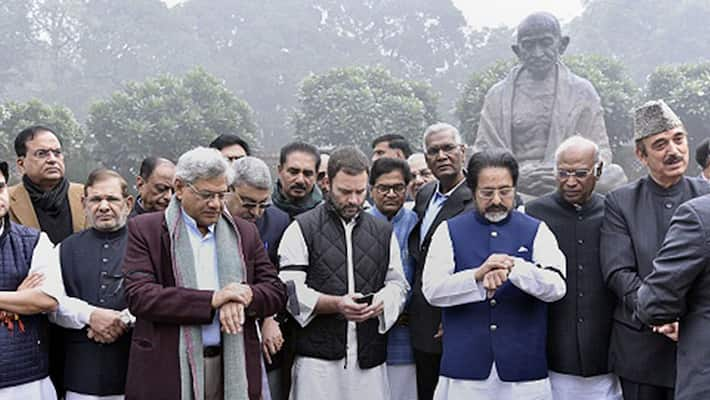 Prime Minister Modi with one announcement deleted 86% of India's cash in circulation, and it has been around 40 days since that day. The sudden government decision led to the massive cash crisis, a huge number of people were left with no cash, some wondered what to do with the high-value notes left in their pocket that turned into paper, and then there were some who wondered what to do with their unaccounted for cash. 
Soon after, new ₹500 and ₹2000 currency began to make its way through ATMs and banks.  However, due to the failure of fast remonetisation RBI had to put a restriction on cash withdrawal which still exists and though earlier, PM Modi on various occasions said that it is a matter of 50 days, now he has shifted his stand and recently said that after 50 days normalcy will return slowly. 
Also READ: 30 days after demonetisation, only 30% work done
Amidst this, the Winter Session of Parliament started and many of us wrongly believed that perhaps this is where all the confusions and uncertainties will end as questions will be raised, and answers will have to be given. 
But, nothing remotely closer to this happened. 
The not-at-all prepared opposition of the government frankly had no idea how to initiate a debate against the demonetisation move and it was very evident in first few days itself. 
First, the opposition lacked leadership and did not know which direction to take other than attacking PM Modi personally. Now, while announcing the decision, the PM requested public support on the ground morality, greater good, and of course, nationalism. These factors create a sacred line for the citizens of this country which should not be crossed especially in the recent times. 
Also READ: Demonetisation: What PM Modi needs to answer
In fact, the opposition also respected this imaginary line and prevented from even asking what sort of 'temporary inconvenience' people will have to face? 
In the Lok Sabha, whosoever scream louder took the lead and there was nothing but more confusion and more anti-PM slogans, and nothing constructive or clarifying. 
Then came the November 28 call for Bharat Bandh by the opposition about which people, as well as the opposition, had no idea about whether it is a call for a shutdown or not and what is expected from the already suffering people of India. 
Demonetisation was a good opportunity for the opposition to connect to people and perhaps, gain some lost popularity (a factor that contributed hugely to Modi's win in 2014 general elections). 
Sadly, the opposition failed to put up any credible argument that could lead to a debate in Parliament and represent the Indian citizens and their plight in a better way. All shouting were against the PM but no argument was made to highlight the troubles of a common man.
Former PM and noted economist Manmohan Singh in a 10 minutes speech offered many valid points of arguments that even impressed the ruling government's ally. But, this also did not help the opposition to gather their strength and represent citizens of India. 
Also READ: Manmohan Singh's demonetisation speech can be a game changer
Meanwhile, the PM in several occasions went out in public to talk about greater good and also shed a few tears to stay connected to the emotional people of India as opposed to the opposing party who completely failed the people of the nation.
Interestingly, economists, industry experts, and analysts had better arguments in favour as well as against demonetisation in past 40 days than the opposition in Parliament. 
The recent claim of Rahul Gandhi in media and not even on the Parliament floor also is not something that reflects the difficulty faced by people. In fact, if he fails to corroborate his claim, this might be another big embarrassment for his party as well as political career. 
Dear opposition, all that you did during the winter session of Parliament was preventing it from functioning and as a suffering citizen of India, I say, I may not vote for BJP in next elections, but I am also not sure whether I will vote for you or not. 
Last Updated Mar 31, 2018, 6:50 PM IST