Mangaluru's viral incident: Inspector removes green flag at Ganapati Katte; prevents potential riot - WATCH
The article highlights a viral incident in Mangaluru where miscreants attempted to incite a riot by raising a green flag at Ganapati Katte, with the timely intervention of Inspector Sandesh PG preventing a potential disaster.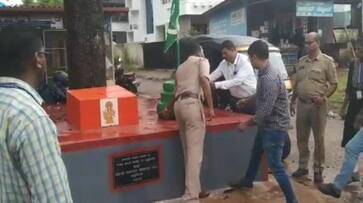 The incident of stone pelting during the Eid Milad procession in Shimoga continues to resonate, leaving a somber atmosphere in Ragigudda. Meanwhile, a separate incident in Mangaluru has gained widespread attention on social media. The incident unfolded in Puchemogeru, located in the Moodbidre taluk of Dakshina Kannada district, when troublemakers attempted to incite a riot by hoisting a green flag at a Ganapati Katte during the Eid Milad celebrations. This occurrence transpired on September 30 but only came to public knowledge much later.
On the day of the festival, there was an unsettling attempt to disrupt the peace in Mangaluru as well, and a potential catastrophe was narrowly averted thanks to the timely intervention of Moodbidre Inspector Sandesh PG.
The incident gained notoriety after a video related to the event went viral on social media platforms. The troublemakers had raised a green flag at Ganapati Katte in Puchemogeru. It is reported that Hosabettu PDO Sekhar acted irresponsibly by not promptly removing the flag, despite being informed about it.
Upon learning of the matter, Inspector Sandesh promptly visited the scene and confronted PDO Shekhar, putting him in a difficult situation. He inquired whether permission had been obtained to display the flag at Ganapati Katte, reminding the PDO of his responsibilities.
The inspector questioned, "Do you even know what your job entails? What are you doing?" Since permission had not been obtained, it meant that a police complaint should be filed against those responsible. The inspector expressed his bafflement at the PDO's lack of awareness about his own authority and responsibilities.
Subsequently, Inspector Sandesh PG, with the assistance of police personnel, removed the green flag. Miscreants had placed it on a hill that belonged to the Hindu community in an attempt to incite discord in Moodbidre. Fortunately, due to the inspector's prompt actions, a potential disaster was averted.
Last Updated Oct 6, 2023, 9:38 PM IST