KSR Bengaluru to Dharwad Vande Bharat express train extended until Belagavi
The Vande Bharat Express, now extended from KSR Bengaluru to Belagavi, meets local demands. Departing at 5:45 am, train 20661 will reach Belgaum by 1:30 pm; its return, train 20662, departs at 2:00 pm and reaches Bengaluru by 10:10 pm. MP Eranna Kadadi thanked Railway Minister Ashwini Vaishnava for this connectivity boost, expected to enhance travel convenience.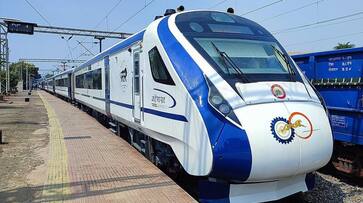 The Vande Bharat Express, running between KSR Bengaluru and Dharwad, has now been extended to reach Belagavi, catering to the long-standing demand of the people in the region.
According to the latest update, the train with number 20661 will depart from KSR Bengaluru station at 5:45 am and is scheduled to arrive at Belgaum by 1:30 pm. Conversely, train number 20662 will initiate its journey from Belgaum at 2:00 pm and reach KSR Bengaluru station by 10:10 pm. The specific date for the commencement of the Vande Bharat Express service will soon be announced.

Davangere: Two minor boys taken into custody for pelting stones at Dharwad - Bengaluru Vande Bharat train
Expressing gratitude for this extension, Rajya Sabha MP Eranna Kadadi conveyed his thanks to Union Railway Minister Ashwini Vaishnava and the Railway Department for considering and fulfilling the request made to enhance connectivity in the area.
This extension is expected to provide greater accessibility and convenience to commuters travelling between these prominent destinations, addressing the longstanding appeal of the local populace.
Last Updated Nov 16, 2023, 9:38 AM IST