'Avoid Air India on November 19; do not risk your life...' Khalistani terrorist Gurpatwant Pannun's new threat
A new video featuring Khalistani terrorist Gurpatwant Singh Pannun has emerged, wherein he issues a threat to individuals planning to travel via Air India on November 19. Pannun warns Sikhs against flying with Air India on that date, claiming a global blockade will prevent Air India flights worldwide, posing life-threatening risks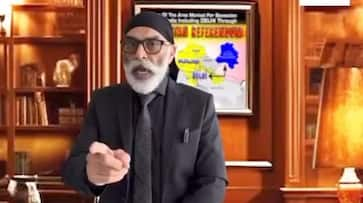 Wanted Khalistani terrorist Gurpatwant Singh Pannun has issued a threatening video message aimed at individuals intending to travel via Air India on November 19, cautioning them that their safety will be jeopardized. Pannun's message declared a call for Sikhs to abstain from flying with Air India on the 19th of November, warning of a worldwide blockade that would prevent Air India flights from taking off anywhere. 
He emphasized the potential life-threatening risks involved, directly addressing the Indian government and proposing the closure of the Indira Gandhi International Airport on the specified date. The video, lasting just 1 minute 37 seconds, carried a serious tone and urged Sikhs to consider their safety.
Additionally, the SFJ leader elaborated on the choice of November 19 as the date for their intended actions at the Delhi airport and against Air India. He linked this date to the World Cup's final match, intending to utilize the occasion to highlight their claims of a Sikh genocide in India and its attribution to the Indian government. The video contained a promise that, upon the liberation of Punjab, the airports would be named Shahid Beant Singh and Shahid Satwant Singh Airport.
It's important to note that Pannun is a controversial figure with a history of threats and is connected to the banned US-based Sikhs for Justice (SFJ) outfit.
Pannun, a native of Amritsar, has been under the National Investigation Agency's (NIA) scrutiny since 2019, following the filing of the first case against him. He has faced accusations of actively promoting and commissioning acts of terrorism and engaging in activities that spread fear and terror in various parts of India, particularly Punjab, through his tactics of threats and intimidation.
Subsequently, non-bailable warrants for Pannun's arrest were issued by a specialized NIA court on February 3, 2021, and he was officially designated as a "Proclaimed Offender" on November 29 of the previous year. Importantly, this was not the first occasion when he had threatened the Indian government with the prospect of orchestrating a large-scale attack in India. 
On October 10, Gurpatwant Singh Pannun issued a threat to Prime Minister Narendra Modi, drawing a parallel between the Israel-Palestine conflict and warning of a potential violent "reaction" unfolding in India. He suggested that people in regions facing "illegal occupation," including Punjab, could react with violence, emphasizing the cycle of violence.
Last Updated Nov 4, 2023, 7:27 PM IST