Kerala likely to receive rainfall till September 5; Yellow alert in two districts
The IMD has predicted moderate rainfall for the next five days in Kerala. A yellow alert has been sounded in Alappuzha and Idukki districts today.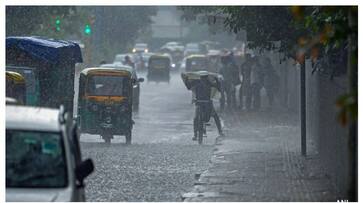 Thiruvananthapuram: The India Meteorological Department (IMD) has predicted rainfall in Kerala accompanied by thunderstorms till September 5. The notification said that there is a possibility of moderate rain for the next five days. At present, the rains are due to two cyclonic circulations over the North East Bay of Bengal and Central West Bay of Bengal. According to the IMD, a new cyclone is likely to form in the northwest Bay of Bengal by September 4. As per notification issued at 10 am, a yellow alert has been sounded in the Alappuzha and Idukki districts. 
Also read: Kerala: Revised Paliyekkara toll plaza fee to come into effect from today; Check revised rates HERE
Kerala is currently experiencing an unusual southwest monsoon. The State, known for its heavy rains, had its driest August ever this year, with barely six centimetres of rainfall compared to the typical average of 42.6 cm, or a deficit of almost 86 percent. The most rainfall has historically occurred in August during this time. The lowest rainfall in August was 18.2 cm in 1911.
This year, the state experienced a 48% rainfall deficit from June 1 to August 31 (Thursday). In contrast to the predicted 174.6 cm of rainfall, the state only received 91.16 cm.
"El Niño dampened rainfall in August, and it will also have a negative impact on September rainfall," said a senior official at the India Meteorological Department (IMD).
According to the official, India is on track to conclude the June-September monsoon season with a rainfall deficit of at least 8%, which would be the most since 2015, when El Nio also reduced precipitation.
 
Last Updated Sep 1, 2023, 12:23 PM IST