Kerala: Narrow escape for cops after suspect's father opens fire in Kannur
Valapattanam firing case: Babu Thomas, the father of accused Roshan, has been charged with an attempt to murder by the police after he opened fire while trying to save his son from arrest in Kannur.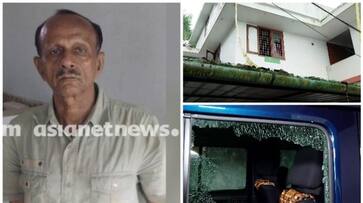 Kannur: In a dramatic turn of events, the father of an accused in an assault case shot at the policemen who reached his house to take his son into custody in Chirakkal, Valapattanam. The police escaped the bullet shot narrowly.  Finally, Babu Oommen Thomas (71), was subdued by the police officers. Meanwhile, his son Roshan managed to break out of the house and is currently on the run. The incident took place around 10 pm on Friday (Nov 3). A five-member team of Valapattanam led by two Sub Inspectors arrived at Roshan's house. 
Also read: Breaking: Aluva rape and murder case: Accused Ashfaq Alam found guilty
The police have registered a case of attempt to murder against the accused Babu Thomas in the firing at the police in Kannur Valapatnam yesterday. The police also stated that the gun does not have a license. The SI explained that Thomas fired three rounds with a revolver and escaped only because he dodged. Together with the witnesses, the police arrived at Babu Thomas' residence. According to the police, Thomas went into the upstairs room and shut the door when he noticed them. 
Babu Thomas is father of drug case accused Roshan.  They reside close to Chirakkalchira in a home known as Villa Lake Retreat. In the case, Roshan is also charged with assaulting a Tamil Nadu native on the 22nd of last month. The police were notified by the locals that day that Roshan, who had gone into hiding, had returned home. At 9.50 pm on Friday, a five-person police team under the command of Valapatnam SI arrived at the residence, unlocked the gate, and went inside.
As soon as Roshan's father Babu Thomas saw the police, he went into the upper room and closed the door. Realizing that Roshan was on the upper floor, the police went there through the outside corner. When the police tried to open the door of the upper room, there was firing from inside. Babu Thomas fired three rounds. The cops escaped only because they ducked.
Then the higher officials were informed and more police arrived. 71-year-old Babu Thomas was subdued by breaking the door. The car parked at their house is broken. CCTV was also destroyed. But Babu's wife Linda says that the police came along with the goons. They said that the house was attacked while the police were watching and that Roshan had not come home since October 22. Moreover, the explanation of the wife is that Babu has a gun license and is a member of the Rifle Association.
Last Updated Nov 4, 2023, 11:32 AM IST