Kerala: Indian Railways announces new schedule for Vande Bharat Express; Check details
The Indian Railways has announced a new schedule for the Vande Bharat Express in Kerala. The new schedule will be applicable on October 23.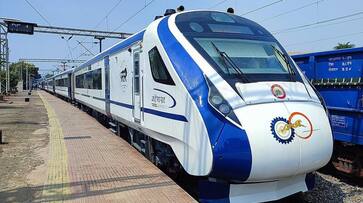 Thiruvananthapuram: The Union Ministry of Railways approved the stoppage of Vande Bharat Express at Chengannur on Friday (Oct 20). In regard to this, a new schedule for the second Vande Bharat Express has come out.
The Vande Bharat Express (20633/20634), which runs between Kasaragod and Thiruvananthapuram, will stop at Chengannur with immediate effect as per the notification of the Railway Ministry.
The new schedule will be applicable on October 23. New schedule changes departure timings. The train departure from Thiruvananthapuram will be 5 minutes earlier from tomorrow. It will now begin its service at 5.15 a.m.
The train will reach Kollam at 6.03 am, and depart at 6.05 a.m. The train then reaches Chengannur at 6.53 a.m. and departs at 6.55 a.m.
The train's arrival times at Kottayam and Ernakulam will remain the same as before. In Thrissur, it will now be stopped for 3 minutes instead of the previous 2 minutes, departing at 9.33 a.m.
The train's schedule from Shoranur to Kasaragod will remain unchanged, with stops at Kozhikode, Kannur, and Kasaragod stations as usual.
For the return journey, the schedule from Kasaragod to Shoranur will continue as before, with an additional minute stop in Thrissur. The Vande Bharat will now arrive in Thrissur at 6.10 a.m. and depart at 6.13 a.m.
The arrival and departure times at Ernakulam and Kottayam will remain the same. The train will reach Chengannur at 8.46 am and depart at 8.48 am; Kollam at 9.34 am, departing at 9.36 am; and finally return to Thiruvananthapuram at 10.45 am, which is 5 minutes later than the previous schedule.
Last Updated Oct 23, 2023, 8:21 AM IST