Kalamassery blast: Condition of 4 victims critical, two on ventilator
Kerala Health Minister Veena George said that 17 people who suffered injuries in the Kalamassery blast are undergoing treatment. 4 people are in critical condition and two of them are on ventilators. The explosion took place inside a convention centre during a prayer meeting of Jehovah's Witnesses near Kalamassery on Sunday.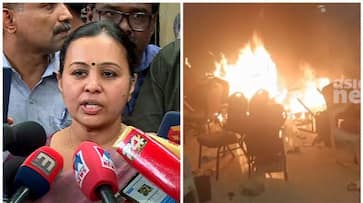 Kochi: Health Minister Veena George has said that 17 people are undergoing treatment in various hospitals in the Kalamassery blast. The condition of four people under treatment is critical. Two of them are on ventilators. The minister told the media that the mother and brother of the deceased child are in serious condition. 
Meanwhile, the death toll in the Kalamassery blast has risen to 3. A 12-year-old girl who was undergoing treatment at Kalamassery Medical College succumbed to her injuries. Kumari (52) and Leona Paulose (55) have been identified as the other deceased victims of the tragedy. They are from Thodupuzha and Perumbavoor, respectively
The post-mortem of all three bodies will be conducted today. The DNA test of the relative of Leona Paulose who was killed at the scene of the incident will be done today. The preparation for this is underway.
The brother of the deceased child has suffered 60 percent burns, and the mother has 50 percent burns. The minister said that the health condition is still critical.
Meanwhile, the Kochi police confirmed on Sunday (Oct 29) that the blast at the Kalamassery Convention Centre was carried out by Dominic Martin, who surrendered before the Kodakara police. The visuals of him detonating the bomb using a remote control were recovered from his mobile phone. He learned to make IED bombs on the internet within six months. 
The police also said that the accused prepared the explosive device at his home in Thammanam, Kochi. There are two rooms in the house, and Martin uses one room, which he used to make the bomb. His wife and daughter use the other room.
Dominic Martin is a foreman in Dubai who possesses the necessary technical knowledge. Dominic prepared the explosive the day before the blast, according to the authorities.
Last Updated Oct 30, 2023, 12:47 PM IST