IIM study shows massive impact of PM Modi's 'Mann Ki Baat'
Research by the Indian Institute of Management (IIM)-Bangalore delves into the transformative influence of Prime Minister Narendra Modi's 'Mann Ki Baat' radio program. Over nine years and 105 episodes, the program has played a pivotal role in promoting key policy initiatives such as girls' welfare, yoga, and the revival of khadi.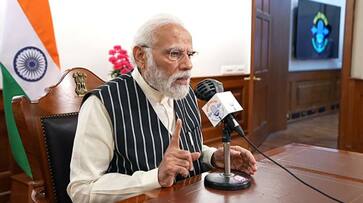 A study conducted by the Indian Institute of Management (IIM)-Bangalore has revealed the significant impact of Prime Minister Narendra Modi's monthly radio program 'Mann Ki Baat' in popularizing various policy initiatives. Over the past nine years, the programme has played a crucial role in promoting initiatives focused on girls' welfare, yoga, and the use of khadi.
This research involved an analysis of 105 episodes of 'Mann Ki Baat' and assessed the enduring effects of these initiatives, both tangible and intangible, that were brought to light through this influential and strategic communication medium. The study also employed natural language processing (NLP) techniques to delve into the policy implications of 'Mann Ki Baat.'
The report highlighted that 'Mann Ki Baat' has had a positive impact on various initiatives. For instance, it revitalized the popularity of khadi, an integral part of India's freedom struggle, which had seen a decline in modern times. With mentions on the program, khadi regained immense popularity, leading to increased sales and greater coverage on social media.
Similarly, the 'Beti Bachao, Beti Padhao' scheme, launched in January 2015, gained prominence after being featured on 'Mann Ki Baat.' The continuous mentions of the scheme in the program for two years contributed to its increasing fame. The Sukanya Samriddhi Yojana (SSY), a deposit scheme designed for the girl child as part of the Beti Bachao Beti Padhao campaign, also became widely popular and successful after being discussed on the program.
Yoga, a concept with a long history, gained renewed fame following its mention in 'Mann Ki Baat' in December. However, it reached its peak popularity after extensive coverage of the program in May and June 2015, enhancing public understanding of its significance. Additionally, the Mudra Loan program gained recognition, especially during the COVID-19 pandemic, and its popularity continued to grow.
As of 2022, 'Mann Ki Baat' remains instrumental in raising public curiosity and awareness about various initiatives and policies, further contributing to its popularity and success.
Last Updated Oct 4, 2023, 11:57 AM IST