Karnataka's ugly politics: Zameer vs HDK, Siddaramaiah vs CM Ibrahim to BSY vs Yatnal, how friends turned foe
As public campaigns to the Karnataka by-election will end today, a series of words and personal attacks between leaders were witnessed. Interestingly, close friends then Zameer Ahmed Khan and JD(S) leader HD Kumaraswamy's battle stands out as the latter compared the former to a dog.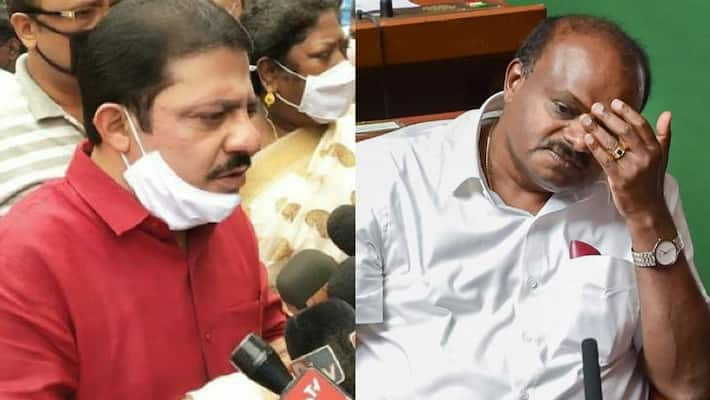 The adage 'no permanent friends and no enemies in politics' present in Karnataka politics has resulted in a showdown between one-time close buddies to cross swords with each other. Among friends turned foe lot, Zameer Ahmed Khan and HD Kumaraswamy are the latest addition as the latter compared Khan to a dog.
Addressing a press conference a day ago, Kumaraswamy gave a fitting reply to Congress in general and Zameer in particular for alleging JD(S) of promoting 'suitcase' culture. He also told reporters why an elephant should respond to a barking dog. Here Kumaraswamy was comparing Zameer with the dog.
In response to Kumaraswamy, Zameer said that Kumaraswamy is a backstabber and accused him of preventing Deputy CM post to his brother HD Revanna.
Interestingly, Zameer and Kumaraswamy were thick friends during the Rajya Sabha elections in 2017-2018, and both fell apart after Zameer along with 7 MLAs voted for Congress candidate KC Ramamurthy and defeated JD(S) BM Farooq. Just before assembly elections in 2018, Zameer along with 6 MLAs defected to Congress.
Also read: Church survey: Karnataka HC declines interim order, awaits state govt's response
Cracks in Siddaramaiah and CM Ibrahim's friendship:
The by-election to both Hangal and Sidagi did not see the star campaigner CM Ibrahim who is known for articulation and cornering the opposition. It is said that Zameer's proximity with Siddaramaiah and undue importance to JD(S) migrant MLA has resulted in Ibrahim distancing himself from Congress and this is clearly visible in this by-election. Siddaramaiah and Ibrahim were said to be very close and during Congress rule under Siddaramaiah, Ibrahim was made an MLC.
'Yediyurappa's close aide from Vijapura allegedly conspired to unseat him'
BJP leader Basangouda Patil Yatnal has been very critical of BS Yediyurappa for not making him a minister. He even gave an open statement about the change in leadership and Yediyurappa's son BY Vijayendra's interference. He once collided with a few other BJP leaders to unseat Yediyurappa by complaining to the High Command. He succeeded after BJP High Command reportedly asked Yediyurappa to step down in August. Even in the by-election, Patil's presence was very minimal as Yediyurappa's son BY Vijayendra was given responsibility for the Hangal assembly.
Last Updated Oct 27, 2021, 5:29 PM IST