Gujarat election 2022: Congress has outsourced contract of abusing me, says PM Modi
PM Modi said that when the Indian government takes action against corruption, "an entire group shouts against us" and begins to defame government institutions.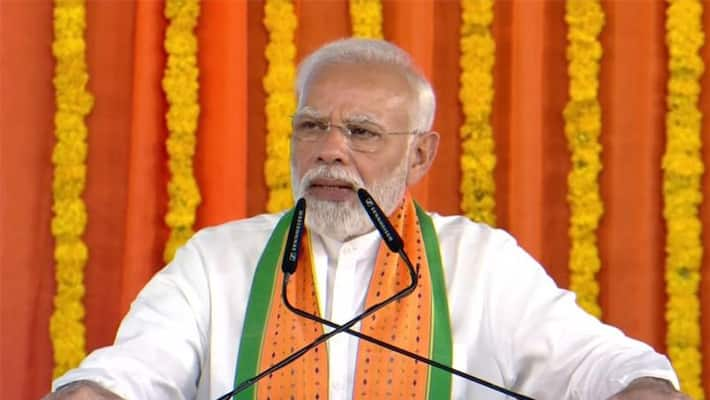 Prime Minister Narendra Modi said on Tuesday that the Congress had outsourced the task of abusing him and is working 'quietly' to win rural votes.
While addressing a rally in Jamkandorna town in Rajkot district, PM Modi warned Bharatiya Janata Party workers and supporters to be wary of the opposition Congress while speaking at a rally in Jamkandorna town of Rajkot district in the BJP-ruled Gujarat ahead of state Assembly elections this year.
Those opposed to Gujarat have left no stone unturned in their efforts to defame the state over the last two decades. According to the prime minister, they called me 'maut ka saudagar' and other degrading terms.
They've gone completely silent. They have delegated the task of causing a commotion, making noise, and abusing me to others. They are silently going to villages and requesting votes, Modi said, without naming the Aam Aadmi Party (AAP), the new entrant in the Gujarat election.
I should caution you against the opposition party's quiet strategy. According to the PM, "I know this because it is managed by those known to conspire against Gujarat from Delhi."
Targeting the opposition, Modi stated that when the Indian government takes action against corruption, "an entire group shouts against us" and begins to defame government institutions.
"Why don't you answer to the accusations made against you directly? You will have to repay whatever you have stolen from the public. Shouldn't I keep working despite criticism? I have your complete support," he added.
Modi told BJP workers and supporters to ask Congress leaders about visiting the world's tallest Statue of Unity, built in Gujarat in honour of India's first home minister, Sardar Vallabhbhai Patel, who was born in the state.
Except for one group of people, he said visitors from across the globe visited the grand Statue of Unity. 
"If you see a Congress worker near your village, ask him if he has ever visited the Statue of Unity. Even if some of them went, they would have done so secretly so that others would not know," he stated.
Gujarat would not accept anyone who does not appreciate the son of the soil, according to Modi.
In a clear response to critics of the 'Gujarat model,' Modi stated today that the state and development have become synonymous. Whatever sector one looks at, Gujarat's development can be backed up by statistics.
He recalled times when people had to fight for water and electricity, and law and order were a problem.
According to the Prime Minister, all of this has changed in the 20 years of the BJP's rule.
He claimed that during the BJP's two decades in power, sectors such as education, healthcare, and industry had grown dramatically.
If Gujarat had not grown so much in the last 20 years, the future of the state's youth would have been in doubt. "The future of our youth is progressing with development and trust due to 20 years of hard effort," he said.
The prime minister stated that this is only the beginning and that his ambition is to take Gujarat to new heights in the next 25 years.
As Modi approaches the end of his 21-year tenure as Governor of Gujarat and Prime Minister of India, he reflected on the journey that began in Rajkot. In 2002, he won his first election as an MLA from Rajkot (west).
"Months and years have passed, but Gujarat continues to achieve new heights, and behind this is not just the government and Narendra-Bhupendra (CM Bhupendra Patel), but the hard work of friends like you," he said.
On the occasion of Jayaprakash Narayan's and Nanaji Deshmukh's birth anniversary on Tuesday, Modi also remembered them.
He stated that Deshmukh's ideals continue to inspire him and that he attempts to complete Narayan's task of ridding India of corruption.
(With inputs from PTI)
Also Read: Gujarat election 2022: PM Modi takes dig at AAP, says 'Urban naxals trying to enter state in new appearances'
Also Read: 'Neech' insult against Prime Minister Modi resurfaces in poll-bound Gujarat; BJP shares AAP state chief's clip
Also Read: Gujaratis blessed me for two decades, did not look at my caste: PM Modi
Last Updated Oct 11, 2022, 5:19 PM IST