UP's new CM is the current head priest of the Gorakhnath Mutt.
The five-time MP has decided not to enter his official residence yet.
Before that 'auspicious time', various rituals have been arranged.

The five-time MP from Gorakhpur, who was sworn in as the 21st Chief Minister of the most populous state yesterday in a grand ceremony, has decided not to enter the bungalow without proper prayers and purification ritual. Seven priests from Gorakhpur and Allahabad conducted prayers at the official residence of Aditynath. 

New nameplate: 

'Aditya Nath Yogi, Chief Minister' says the new nameplate outside the 5, Kalidas Marg bungalow, which was occupied by Akhilesh Yadav for five years before his Samajwadi Party was trounced by the "saffron tsunami" in the state Assembly elections. 

New gates get new symbols: 

A priest put up the 'swastika' sign above the Chief Minister's name plate by dipping marigold flower in sandal and haldi paste. The priest then wrote, "Om" and "Shub Laabh" on the imposing gates of the bungalow. "This is a usual ritual worship of Lakshmi-Ganesh before 'grih pravesh'," said one of the priests on conditions of anonymity. 

A fresh look for the vegetation: 
The gates freshly painted in white were decorated with marigold garlands, while the lush green lawns inside the compound embroidered by beds of season flowers in their full bloom, were being given final touches for the new occupant. 

Prayers in full swing: 
Inside the bungalow, priests made elaborate preparations for "yagna" and "havan". These are rituals done in front of a sacred fire amid chanting of Vedic mantras to purify the atmosphere and ward off evil spirits, for the "mahant" of Gorakhnath Mutt.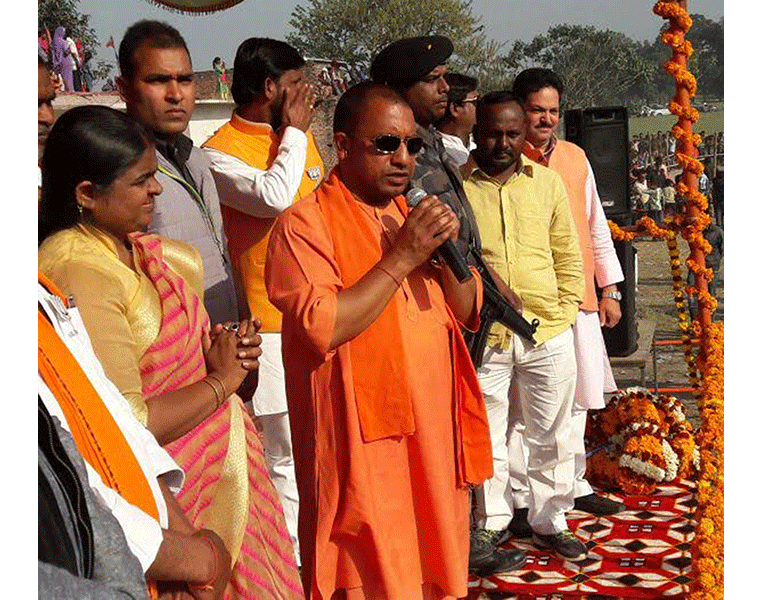 The Gorakhnath Mutt is a temple of the Nath monastic group in the Nath tradition. The name 'Gorakhnath' derives from the medieval saint Gorakhnath of the 11th century, a famous yogi who had travelled widely across India. 

According to the principles of Saint Gorakhnath, the monastic order does not follow caste conventions as other Hindu religious groups do. Thus, non-Brahmins may also serve as priests. 

Adityanath, the current head priest, is a Rajput. He succeeded Avaidyanath, his mentor, in 2014 as the religious and temporal head of the monastery following the latter's death. 

Various cultural and social activities are performed in the vast premises of the temple in Gorakhpur city, which derives its name from Gorakhnath. The temple also serves as the cultural hub of the city on the Indo-Nepal border. 

The Gorakhnath Math has a significant following in eastern Uttar Pradesh and Terai regions of Nepal.