First Jio, now Paytm: Is Modi endorsing private companies?
Paytm had full-page advertisement thanking PM Modi for demonetising ₹500 and ₹1000 currency notes
Paytm surprisingly made 1000% profit in a single day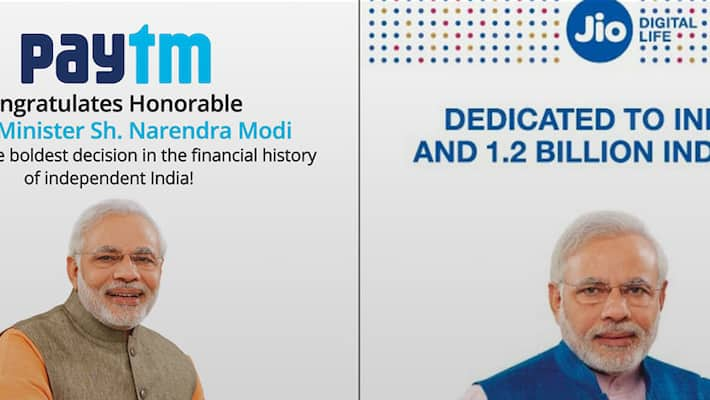 Prashant Bhushan wrote:
When the entire India is trying to cope up with the ban on ₹500 and ₹1000 currency notes, the 'Paytm' finance firm is literally bathing in cash and can't get enough of thanking PM Narendra Modi.
Just a day after the ban of respective notes, Paytm had a 1000 percent increase in its business. So much so the firm has featured Prime Minister Narendra Modi in their one-page front-page advertisements in every newspaper in the country.
Sources also said that Paytm will recruit 10,000 people after the sudden surge in people using their services following demonetisation of ₹500 and ₹1000 currency notes.
Now, can a Prime Minister of a country be featured in any advertisement by private firms? Of course, the prime minister was seen in the centre of Reliance Jio advertisements released in early October.
So, is our prime minister endorsing products of private companies, is it allowed?
The Emblems and Names (Prevention of Improper Use) Act, 1950, clearly states that "…No person shall, except in such cases and under such conditions as may be prescribed by the Central Government use… for the purpose of any trade, business, calling or profession… any name or emblem specified in the Schedule or, any colourable imitation thereof without the previous permission of the Central Government or of such officer of Government as may be authorised in this behalf by the Central Government."
Now, there has been no legal statement against the advertisers from the Prime Minister's office yet. So did Modi give his consent to use his photograph for the Paytm advertisement.
Considering that every other company is struggling to get adjusted to the new currency notes, Paytm has made larger than life profits.
Even when the Jio advertisement came out, it invited criticism from all quarters saying the prime minister is endorsing a private product. However the advertisement was slightly presented in a modified way in the electronic media. The company cleverly attached the Jio offers to Prime Minister's 'Digital India' campaign. "The Jio will help the digital India as people can afford internet in much lower price it claimed."
Now Paytm has so far not connected its advertisement to any such scheme by the Modi government.  
In April this year, a stamp size photo of Prime Minister Modi was used for an advertisement by the Maple Shelters- a Pune based investment group in their advertisement on affordable houses. The advertisement was made to look like it was a part of government's Pradhan Mantri Awas Yojana.
The group was made to publically apologise for putting Modi's photo on the advertisement.
So, how did everything change in a matter of six months. When a small advertisement caused great harm didn't the full-page advertisements by Reliance Jio and Paytm have any adverse effects?
Speaking to the Wire on Jio ads, Sanjaya Baru, former media adviser to the previous prime minister, pointed out that, a private company is required to obtain permission before bringing out such a brand or advertising campaign. "I would say that it would definitely be normal for the company and the prime minister's office to talk first or for the company to ask for permission before this happened," he had told The Wire.
Santosh Desai, a well-known marketing professional also had similar views. He too had told the Wire that, "There's no way a company like Reliance, which is placing the biggest bet of its life, leaves things like this up to chance. I highly doubt this was done without permission."
This argument holds good for Paytm too. At least we can say that Prashant Bhushan's question is not completely out of context. But all this still keeps us guessing,it might not be legally wrong for the prime minister to appear on advertisements promoting products of 'particular' companies, but is it the right thing to do?
Last Updated Mar 31, 2018, 6:58 PM IST