EXCLUSIVE: Devotees' management & beyond - Decoding Ayodhya's preparedness for Ram Mandir's grand opening
In an exclusive interview with Asianet News Network's Rajesh Kalra, Nripendra Misra sheds light on Ayodhya's readiness and the comprehensive crowd management scheme in place as the city gears up for the grand opening of the Ram Mandir in January 2024.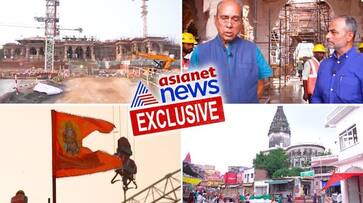 As the anticipation for the January 2024 grand opening of the Ram Mandir in Ayodhya steadily builds, meticulous planning and preparations are underway to ensure that this historic event unfolds seamlessly. An estimated 1,25,000 devotees are expected to make their way to the sacred city on a daily basis after the inauguration to offer their prayers to Lord Ram.
Also read: Countdown to Ram Mandir's grand opening: Exclusive journey into construction progress, milestones and more
In an exclusive interview with Asianet News Network's Rajesh Kalra, Nripendra Misra, Chairman of the Shri Ram Janmabhoomi Teerth Kshetra Trust's temple construction committee and former Principal Secretary to Prime Minister of India, sheds light on the city's readiness and the comprehensive crowd management scheme in place.
One of the pivotal aspects of this preparation is crowd management, a task that requires precision and foresight. Misra noted that the Commissioner of Ayodhya has taken charge of this critical responsibility, leaving no stone unturned. His presentation revealed a detailed analysis of the city's accommodations, including hotel and dharamshala capacities, and transportation logistics.
"The Commissioner of Ayodhya made a presentation on the crowd management scheme. He was meticulous. He has gone to the detail of what kind of amenities are required, what kind of food is required, what are the language challenges because people will be coming from different states. He is trying best, state government is totally committed," Misra stated.
Civil Aviation authorities have also confirmed their commitment to the cause, with plans to commence flights to Ayodhya from December. The addition of at least three direct flights to the city is poised to make the pilgrimage more accessible to devotees from distant corners of the country.
In addition to flights, dedicated trains will be introduced from significant pilgrimage destinations like Rameshwaram and Tirupathi. This strategic move acknowledges the far-reaching impact of the event, as millions of devotees are expected to converge on Ayodhya.
Also read: Awaiting Ram Mandir's grand opening: Nripendra Misra reflects on milestones, challenges during construction
But what about the infrastructure? 
Misra emphasized that Ayodhya is gearing up for the influx with substantial roadwork. A significant 13 kilometers of roads have been under construction and widening. He said, "According to this estimate, about 6.5 km will be ready by December. The main roads leading to the temple, main railway over bridges that connect to the road leading to the temple that will be complete. There is an issue of civic amenities, water, sewage, drainage, they are all working and they are very conscious of the results to be shown by December."
Beyond the grand event, Ayodhya is also looking toward the future. Misra noted that the Smart City project, spearheaded by UP Chief Secretary Durga Shankar Mishra, is a visionary initiative that aims to transform Ayodhya into a modern, well-planned city. He highlighted that the project envisions utilizing 1,200 acres of land on the other side of the highway. While it may take a few years to fully materialize, this development promises to bring a new dimension to Ayodhya.
According to Nripendra Misra, one exciting prospect within the Smart City project is the construction of guest houses for international visitors. Countries like Nepal, Sri Lanka, and Mauritius have expressed interest in establishing guest houses for their citizens visiting Ayodhya and the Ram Mandir. This gesture not only fosters international goodwill but also underscores Ayodhya's growing prominence on the global stage.
As Ayodhya readies itself to welcome millions of devotees for the Ram Mandir's grand opening, it is evident that meticulous planning, infrastructure development, and forward-thinking projects like the Smart City initiative are laying the foundation for a brighter and more prosperous future for this historic city. The convergence of spirituality and modernity is poised to make Ayodhya an enduring symbol of India's rich cultural heritage.
Watch the April 2022 interview with Nripendra Misra here
Last Updated Sep 13, 2023, 10:00 AM IST